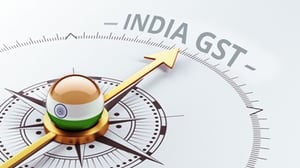 A couple of months ago, we reported in our blog that India's comprehensive dual Goods and Services Tax (GST) would become a reality on July 1, 2017. Hailed as India's biggest tax reform, the new program is now in full effect and has replaced the complex multiple indirect tax structure.
It took a while to come to fruition though - the concept of GST was visualized for the first time in 1999. On August 8, 2016, the Constitutional Amendment Bill for rollout of GST was passed by the Indian Parliament, followed by ratification of the bill. The government has finally published the GST rules, tax rates on goods and services, exemption list and categories of services on which reverse charge is applicable (http://www.cbec.gov.in/htdocs-cbec/gst/index).
One of the most important features of the GST system is that the entire supply chain is subject to GST, levied by Central and State Government concurrently. Because the tax charged by the Central or State Governments would be part of the same tax regime, the credit of tax paid at every stage is available as offset tax payments, which will be more beneficial for exporters. Adding to the complexity of this program, India GST rates on import are not one flat rate as with most VAT/GST systems. Instead, the tax is levied on different HS codes, making proper classification of goods critical for cost and compliance. Certain transactions will require HS codes to be shown on the VAT invoices, so proper import classification is critical.
To assist shippers with the new GST scenario, Amber Road provides both trade automation and content solutions. These solutions help identify and manage this for India as well as over 150 countries, making it the most comprehensive and robust database of global trade content, government regulations, and international business rules available. The identification and qualification of goods in Amber Road's Global Trade Management Software Solution is powered by our Global Knowledge® database of global trade content. Global Knowledge® contains the rules of origin, product classifications and duties and taxes for the major preferential trade programs as well as other core trade rules and regulations.
As always, Amber Road is ready to help support your global trade initiatives. Doing trade with India now requires understanding new compliance requirements, especially when calculating total landed cost. To learn more about automating global trade, please click here to contact Amber Road.
This post was published on September 11, 2017 and updated on September 12, 2017.