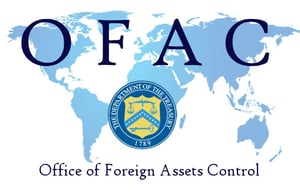 When you think sanctions, there are a few things that probably come to mind: Iran, North Korea, possibly Russia. You may envision munitions being smuggled in Cold War-era trucks by rogue factions of defunct military groups. You may think only bad actors such as known terrorists are direct targets of US sanctions, and only companies that operate within the US are subject to sanctions rules. If you think this, you'd be wrong.
The agency responsible for US sanctions is the Office of Foreign Assets Control (OFAC), a division of the US Treasury Department. OFAC's sole function is to enforce the economic and foreign policy goals of the executive branch of the US government, and the primary way it does this is through economic and trade sanctions. OFAC puts in place sanctions on specific nations or entities to prevent groups that are deemed a threat from getting access to resources such as technology, funds, and even aid and shelter. It also has the power to enforce those sanctions by placing crippling fines and penalties, criminal liability, and loss of trade privileges on individuals or companies that violate the sanctions.
Of course, any company based in the US is subject to OFAC's jurisdiction. So are companies that operate within the US or import to the US. But OFAC's reach is much, much broader than this. In fact, in light of recent enforcement actions OFAC has taken, it seems unlikely that any company or individual anywhere in the world can safely assume they aren't subject to OFAC's sanctions authority.
How can that be? How is it that a small US agency can extend its long arm of enforcement over a person or company that isn't based in the US, doesn't operate in the US, doesn't export from the US, and doesn't trade in US goods? The answer to that question lies mainly in recent legal interpretations and the sheer reach of the US economic system across the globe. Due to legislation such as the 2017 "Countering America's Adversaries Through Sanctions Act" (CAATSA), OFAC can now exercise rulings over foreign companies or individuals for a variety of reasons, such as conducting a wire transfer using US dollar currency or having filed for past bankruptcy in a US court.
OFAC administers a variety of sanctions programs. Some target specific geographies (such as Iran), some target specific activities (terrorism or narcotics trafficking), and some restrictions are placed on specific persons or entities. The list of restricted persons, the Specially Designated Persons (SDN) list, changes continuously and has over 6,000 names. As part of the due diligence companies are required to conduct, you must ensure, among other things, that none of your trade activities involve any entity on the SDN list.
Compliance with OFAC's sanctions rules presents several significant challenges.
First, ensuring full compliance would be difficult enough on its own, especially when trying to manually keep track of changes to hundreds of restricted party lists, update your internal databases, and maintain adequate records all without some form of automation. But OFAC sanctions also apply to entities that are at least 50% owned by a person or persons on the SDN list. It is no easy task to determine the ultimate ownership structure of companies you transact with.
Secondly, OFAC's expectations for due diligence require you to have in-depth knowledge of all your trading partners, the end destination of the goods, and the end user—even for seemingly harmless products.
Thirdly, companies must screen even for alternate spellings and for shipments and transactions that might ultimately benefit a sanctioned person. This makes the already difficult task of screening against the large SDN list next to impossible without a highly accurate, flexible, automated solution.
What's really at stake here, though, is how your organization is impacted by violating OFAC's sanctions rules. Violations can lead to jail time and fines of up to $1 million per incident, even for unintentional breaches. The total financial penalty can easily exceed this amount. For example:
French financial institution BNP Paribas S.A. was penalized nearly $9 billion in 2014 "for processing billions of dollars of transactions through the U.S. financial system on behalf of Sudanese, Iranian, and Cuban entities subject to U.S. economic sanctions."
In early 2019, UniCredit Bank AG, headquartered in Munich, agreed to remunerate over $600 million for illegally processing financial transactions on behalf of Iran.
OFAC recently consolidated its list of blocked foreign financial institutions with a new list, the "Correspondent Account or Payable-Through Account Sanctions" list (CAPTA). It specifically names foreign financial institutions that are subject to US sanctions, and can potentially require US firms to make special disclosures to OFAC.
OFAC's judgments and interpretations supersede even its previous public statements, meaning you might be compliant today but out of compliance tomorrow without advance public notice of changes. Furthermore, OFAC's website directly states that companies should not use precedent alone to guide their compliance practices, but should be proactive in doing all they can do to remain compliant. OFAC's scope, reach, and power set an extremely high bar for companies.
The good news is that OFAC considers all circumstances when it makes a judgment. Companies that proactively manage their compliance programs and voluntarily report violations are much more likely not to incur severe consequences. Using an accurate, reliable software solution is another key element. Amber Road provides the industry's most comprehensive database of government regulations and international business rules. Our trade content, called Global Knowledge®, provides the most current data available anywhere. It covers over 600 restricted party lists (including OFAC's SDN list), 170 countries, and roughly 95% of world trade. Global knowledge is updated continuously (over 17 million updates processed in 2018) using an ISO 9001:2015-certified Global Knowledge Update Process. And Amber Road maintains a staff of in-house trade experts around the world who gather, translate, interpret, and update country-specific trade regulations. Having a robust trade content database like Global Knowledge provides many key advantages for global trade, such as the ability to automate your participation in free trade agreements. Some of the benefits that relate to OFAC's sanctions power include enabling you to:
Avoid fines and penalties by demonstrating proof of compliance with trade regulations and sanctions lists
Ensure accuracy and consistency by precisely classifying products in multiple jurisdictions for customs and export control purposes
Decrease operational expenses by eliminating hours of manual work
Screen for companies owned by blocked persons by integrating with the Dow Jones Sanctions Ownership Research (SOR) List (50% Rule). Dow Jones - Sanction Ownership Research list: Identifies firms that are "controlled" by persons sanctioned by the US or EU. It not only covers individuals and firms subject to asset freezes, but also those who are subject to business restrictions due to their involvement in specific sectors of the global economy.
OFAC's arm reaches all over the world and it is vital that companies have a robust, proactive process in place to comply with all that OFAC requires. Amber Road enables you to automate that process using the most powerful, most accurate, most comprehensive trade compliance solution available.
This post was published on May 21, 2019 and updated on May 21, 2019.