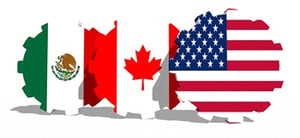 After months of discussion and to-and-fro activity, the US and Canada reached a late hour agreement on a framework for a renewed trilateral trade agreement that will replace NAFTA. The "US-Mexico-Canada Agreement" or USMCA is a "new, modernized trade agreement", according to the joint statement released on Sunday evening by US Trade Representative Robert Lighthizer and Canadian Foreign Minister Chrystia Freeland — the two top negotiators on USMCA.
Time constraints put pressure on the team with a September 30 deadline to have any final agreement published at least 60 days before the current President of Mexico could sign as a new Mexican president is scheduled to take office on December 1. In a last-minute compromise, the Canadians agreed to relax their stance on dairy products while the US yielded their position concerning dispute mechanisms and the application of new automobile tariffs.
"USMCA will give our workers, farmers, ranchers, and businesses a high-standard trade agreement that will result in freer markets, fairer trade and robust economic growth in our region," the statement read. "It will strengthen the middle class, and create good, well-paying jobs and new opportunities for the nearly half billion people who call North America home."
The new agreement retains much of the language of NAFTA with some important changes highlighted here:
Exemptions from unilateral auto tariffs
Reduction in restrictions for dairy products
Some extension of Intellectual Property Rights particularly for bio-pharmaceuticals
An increase in the amount of North American content required in vehicles to meet duty free treatment from 62.5% to 75%
Some additional workers' rights protection language
Rules to cover the exchange of goods by electronic means (for example the online sale and transfer of software) vaguely referred to as eBusiness in the media
Once the agreement is signed by the parties it must be ratified by the legislatures of all three countries sometime in 2019. This will be a tough challenge in Mexico and Canada given they will both be in an election year. Ratification and implementation may also be difficult for US lawmakers, depending on the results of the upcoming November elections.
As the new USMCA enters into force, global companies will need to leverage the technology found in Free Trade Agreement management software solutions like Amber Road to support the process. The platform needs to include all of the current trade agreements to allow for the identification and qualification of goods by using a global trade content database which contains the rules of origin, product classifications and duties and taxes for the major preferential trade programs.
Utilizing a best-of-breed technology solution can help open up new markets for your company by simplifying the compliance and qualification processes. With new FTAs on the horizon or just passed around the world, global trade compliance becomes key to the opportunities ahead.
This post was published on October 2, 2018 and updated on October 2, 2018.