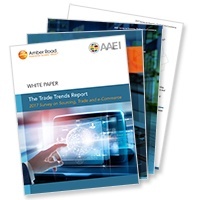 From January to now, 2017 has been riddled with great disruption for global trade professionals. Large-scale changes to trade agreements, boosts in regulatory enforcement, unsteady political landscape, the approach of Brexit, and the destructive trail of natural disasters have spun the global trade world into a state of utter uncertainty.
Now more than ever, companies need to re-engineer processes and supporting systems to achieve a totally new level of agility to respond to these market forces. Not one global company is alone in these challenges; instead all manufacturers, shippers, logistics providers, and other related service providers are struggling through shared uncertainties, risks, and disruptions. Amber Road and AAEI's The Trade Trends Report: 2017 Survey on Sourcing, Trade and e-Commerce, identifies the primary challenges and the means to proactively prepare for them.
The Story Behind The Report
At the start of 2017, Amber Road and AAEI conducted a survey with 250 global trade professionals in hopes of creating a snapshot of the current state of e-commerce. The resulting report: AAEI Benchmark Report: e-Commerce Impacts Global Trade, explored the impact of online sales retailers, manufacturers, and shippers. Yet, a lot of the results were puzzling and required further research.
Now with 2018 around the corner, Amber Road and AAEI wanted an updated picture of the current state of e-commerce. This time, the resulting report, The Trade Trends Report: 2017 Survey on Sourcing, Trade and e-Commerce, expanded beyond e-commerce to touch on the primary challenges faced by global organizations.
In an interview with Supply Chain Management Review, Gary Barraco, Amber Road's Director of Global Product Marketing and author of the report, says "Speed, cost, and risk, are the main aspects we are tracking, because trade policies remain fluid, shippers must have the information needed to be flexible and responsive."
The Trade Trends Report is a snapshot of sourcing, trade and e-commerce at this point in time. Providing many implications as to how 2018 will pan out for those involved in global trade.

The report is organized by the 4 primary trends derived from our findings: the e-commerce shift, utilization of free trade agreements, sourcing challenges, and assessing and addressing supply chain challenges. Here is a brief sneak peak into each:
The e-Commerce Shift
2016 brought a wave of store closures, due to both the global economic climate and the rise of e-commerce. As reflected in our survey, the transition from brick-and-mortar to online is still in the works. 69% of respondents are currently utilizing online sales channels while over 50% of those without an existing online sales channel has plans to implement one.
Utilization of Free Trade Agreements
Our survey revealed that NAFTA was the most utilized free trade agreement among respondents. But as you know, NAFTA has been under renegotiation with the Trump Administration—making it critical for those utilizing the FTA to proceed with caution.
Sourcing Challenges
Sourcing executives pointed to protectionist trade policy agenda as their top concern in 2017. In a close second, 30% of companies pointed to market competition in the United States from e-commerce as either their highest concern.
Assessing and Addressing Supply Chain Challenges
The top 5 global supply chain challenges and risk concerns include; the supplier risks of product quality and capacity and stability, compliance regulation, transportation costs and lack of staffing to manage.
With 2018 quickly approaching, it is critical that your organization identify the primary challenges at hand and prepare for them. Companies like Amber Road offer global trade management (GTM) systems that proactively mitigate risk.
To learn more, download your complimentary copy of The Trade Trends Report!

This post was published on November 29, 2017 and updated on November 29, 2017.