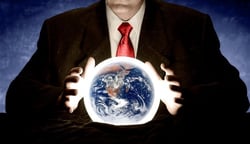 Uncertainty is perhaps the greatest industry trend of 2017. Rooted in the changes to our political climate, inevitable supply chain risks, and drastic shifts in customs and trade patterns, global transactions are riddled with challenges. As a trade compliance professional, you know that operating in a volatile environment requires overcoming the uncertainty that complicates even the most mundane of tasks.
The ability to predict the future is an unrealistic fantasy we all share, but there is no crystal ball for the global trade world. Luckily, there are tactical ways to conquer supply chain disruptions when one has the resources to think like a futurist.
Amber Road is excited to attend the Rider University's Spring Supply Chain Symposium, a one day symposium jam packed with a plethora of case studies presented by supply chain executives across multiple industries. The talented Suzanne Richer, Director of Trade Advisory Practice at Amber Road, will participate on a panel discussion titled "Global Supply Chain Trends: Issues and Strategies for 2017 and Beyond" and present "Think Like a Futurist - Managing Emerging Supply Chain Trends."
As a panelist, Suzanne will share her industry expertise on how firms are managing daily operations in a climate of geo-political uncertainty, regulatory shifts, and technological advancements. In her second session, Suzanne will explore a wealth of tactics used to manage and reduce supply chain disruptions and global transaction risks.
Think Like a Futurist will explore how to prepare for the challenges facing trade compliance specialists in 2017 and beyond. Emerging trends in supply chain disruptions all impact global customs and trade management programs. This program will provide practical solutions for optimizing your trade compliance team in a time of uncertainty and increasingly complex regulations.
Suzanne will explore the following topics:
Managing the emerging trends of supply chain disruptions
The impacts of big data and how customs is using it
The purpose and targets for audits
The key steps required to protect your firm in managing and reducing trade compliance risk
The ability to predict the future would make a world of difference in global trade. Unfortunately, psychics have yet to make their way into the industry, so learning the proper tactics of managing and reducing risk through the use of risk management solutions is your second-best bet to tackling uncertainty.
At this point in time, it is critical to be prepared for the upcoming challenges facing global supply chains. The Rider Spring Supply Chain Symposium is your quickest route to adopting a future-conscious mindset. In the span of a day, industry professionals will share their diverse insights and perspectives to best prepare you for the critical issues facing supply chains in 2017 and beyond.
In the meantime, check out this white paper to learn how your company can prepare for the instability in global trade.
This post was published on March 28, 2017 and updated on September 8, 2017.