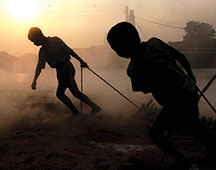 Slavery in the 1800s was rampant and nearly inescapable – up until 1865. However, despite the 13th amendment and the various international treaties banning slavery's existence; now 150 years later, a thing from our past appears to be becoming more of a reality. Modern slavery and human trafficking has developed into a greater concern for U.S. companies and their global supply chains.
This year, several lawsuits have been filed against various colossal retailers and wholesalers resulting from traced evidence that exposes acts of slavery being committed within these companies' global operations. The concern is that they are selling products made from materials produced with slave labor – workers that are subjected to poor conditions such as hazardous work environments, demanding work hours or sometimes imprisonment to pay off debts.
A recent study conducted by KPMG reports that 49 percent of manufacturing executives globally and 54 percent in the U.S. admit that their companies lack supply chain visibility beyond their tier 1 suppliers. Since supply chains for major corporations can extend well beyond three or four tiers, they often face the challenge of maintaining good, yet effective visibility throughout. With the government and consumers increasing pressure on companies to gain awareness of what is happening on the bottom line of their supply chains, businesses are forced to reevaluate their policies and adopt programs to eliminate any inadequacies within their operations. That said, in efforts to fight modern slavery and human trafficking, this arising issue has become a top priority on the national and global agendas.
On July 27, 2015, U.S. Representatives Carolyn Maloney and Chris Smith introduced the Business Supply Chain Transparency on Trafficking and Slavery Act. In the introduction, Representative Smith stated "some companies may participate knowingly in human trafficking to pad the bottom line; others are willfully ignorant of where and how their inexpensive products are made; and still others simply do not know." This eye-opening statement sheds light on the ever-growing issues that companies continue to battle within their global supply chains.
Meanwhile, in the UK, The Modern Slavery Act has been passed into law in an effort to prevent all forms of labor abuse and further increase supply chain transparency. With the global concern of modern slavery and human trafficking becoming more prevalent, these new regulations have begun enforcing extensive implications for retailers.
By adopting collaborative technology solutions, companies enable cross-channel, multi-party, end-to-end efficiency which becomes critical in gaining visibility at all levels of product development, commercialization, and production details to drive remediation and long-term changes. With our best business practices, the idea of supply chain visibility becomes a reality and companies can expose the gray areas in their supply chain and further eliminate risk or damage to their brand reputation.
Want to learn more? Watch the SupplyChainBrain interview, The Scourge of Slavery in Supply Chains, featuring Amber Road's Gary Barraco, Director of Global Product Marketing, to learn more about how your company can eliminate all forms of forced labor from your global operations.
"Slave Labor Concerns Give Companies More Supply Chain Worries." Risk Compliance RSS. The Wall Street Journal, 3 Sept. 2015. Web. 23 Oct. 2015.
Maloney and Smith Target Slavery, Human Trafficking and Child Labor with Bipartisan Supply Chain Transparency Bill. N.p., 27 July 2015. Web. 23 Oct. 2015. <https://maloney.house.gov/media-center/press-releases/maloney-and-smith-target-slavery-human-trafficking-and-child-labor-with>.