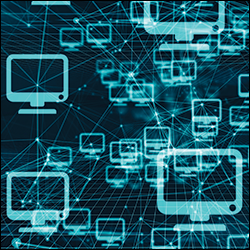 There is no doubt that blockchain technology has the powerful potential to improve digital supply chains and global trade management. But how?
That's the question Dan Gardner, VP of Supply Chain for Lakeshore Learning Materials and co-founder of Trade Facilitators, Inc., and Amber Road's Ty Bordner both answered during Amber Road's recent webinar, Blockchain for Global Supply Chain: Ghost in the Machine or Breakthrough Technology? Of course, blockchain is such a top topic these days that Dan and Ty's introduction sparked a ton of debate, and they were only able to address a fraction of viewers' questions during the hour-long webcast. Luckily, we've compiled their answers to these queries below. See if they've answered some of your biggest questions about how blockchain can be applied to the global supply chain, then watch the webinar on-demand here.
Question: Although I understand "how" this can work for the Global Supply Chain, what I don't understand is "why" it could be preferable to existing data tracking tools?

Answer: As we all know, the global supply chain is highly complex, and there are many different types of use cases spanning the process from purchase order to payment. Not all of the processes are appropriate for Distributed Ledger Technology (DLT). The most appropriate use cases would have attributes which lend themselves to the need for absolute trust and exchange of value.

Q: As a solo exporter, should I adopt this system in my trade financing operations? Can a block of documents be used for satisfying the Letter of Credit (L/C) performance?

A: The Letter of Credit use case seems to be very compelling for DLT (i.e. Blockchain). There clearly is an exchange of value with a Letter of Credit and many of the terms and conditions of an LC can be automated as part of set of business rules (smart contracts). Of course the information representing the LC and the actual movement of the goods (BoL, Commercial Invoice, Packing List, etc.) must be in a digital form.

Q: Contracts are confidential, but how does confidentiality/anonymity work in a distributed ledger?

A: Blockchain (DLT) technology can be implemented in different ways. There is a concept of a public blockchain (Ex. Bitcoin) and a private or permissioned blockchain. In a permissioned blockchain only the parties that have been given privileges will be able to see confidential information.