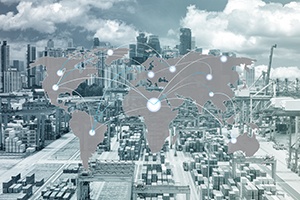 CSCMP's EDGE Supply Chain Conference this year explored cutting-edge supply chain solutions with top industry leaders. Amber Road sent several of our own supply chain thought leaders, who have shared their most transformative takeaways from the conference.
Check out their reflections from the event:
Stephanie Miles, Senior Vice President of Commercial Services at Amber Road, spoke on the panel 'Women at Work.' The session was sponsored by Penn State Executive Programs and as a Penn State alumnus, and Senior Vice President, Stephanie had a lot to contribute:
"I enjoyed being a panelist on the 'Women at Work' series and making new connections with women who are rising stars or already shining stars in their supply chain careers. Always great to be a part of a session sponsored by Penn State. We Are!! I was also super impressed by the musical talent of the CSCMP staff and members. What a fun welcome reception with the live band and 'everyday' CSCMP people as rock stars. Hope to see more of that in the future!"