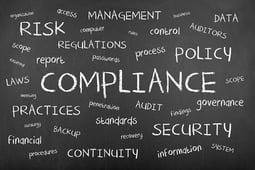 If 2016 taught us anything, it's that the global supply chain can't expect a continuation of the status quo, and even the surest predictions can be wrong. With last year's tumultuous end in the rear-view mirror, global companies powering ahead into 2017 must be ready for regulatory change – both the predicted and unexpected.
The Known and Predicted: HS Changes and TFA Implementation
The World Customs Organization's 2017 sweeping changes to the Harmonized System (HS) officially entered into force on January 1st. The WCO's 233 amendments and 500 changes to the HS impact every industry involved in global commerce, with the majority of changes focused on chemicals, agriculture and food, machinery and hi-tech, wood and paper, textiles, plastics and rubber, and transportation.
For global companies, risks of noncompliance arise in the form of misclassified products, changes in duties, and potential changes in product coverage under Free Trade Agreements (FTAs). Companies without mechanisms in place to track these changes could find themselves stuck with higher-than-expected customs costs or even delivery delays and fines. This requires coordination between classification experts, compliance officers, and Customs brokers.
Companies implementing these changes must stay on top of what's to come. In December, the WCO Review Sub-Committee met in Brussels to discuss a wide range of amendments for implementation in 2022 (HS 2022). Monitoring these developments for potential impact to your supply chain is crucial to staying in front of the global commerce road race.
Last week, the WTO's Trade Facilitation Agreement (TFA) entered into force. TFA aims to reduce regulatory requirements and bring transpraencey to customs procedures. However, according to the WTO's 2015 World Trade Report, the TFA could increase global merchandise exports by up to $1 trillion each year. Developing countries will benefit the most, but developed nations will also seek new export markets among the rising middle class outside of their borders.
Generally, the TFA requires WTO members to expedite the movement, release, and clearance of goods, along with making improvements to customs compliance. Efforts to get countries to work together through trade assistance and capacity-building support for developing nations will bring a wave of fresh trade regulations around the globe. While these changes should increase the efficiency of global commerce, companies will need to keep track of the new regulations, particularly as they enter into new export markets and establish new sourcing locations.
The TFA also brings a big push to modernize customs procedures and compliance efforts by requiring a "single window" for submitting trade documents to various regulatory agencies. In the U.S., the Automated Commercial Environment (ACE) is still in the process of being rolled out to all agencies, with many currently requiring document submission through ACE. Though the process has been continually delayed, ACE will be fully deployed in 2017. Companies must have their internal processes ready to ride alongside CBP's ACE deployment or risk falling out of compliance.
The Unexpected: What impact will trade policy shifts have on trade compliance?
Donald Trump's inauguration as the 45th President of the United States, Brexit, and the rise of populism in Europe bring uncertainty to the global trade community. Trump's promise to dismantle existing trade agreements and create new, bilateral agreements may result in a slew of changes for global companies to stay on top of. Companies must position themselves to take advantage of shifts in the regulatory environment that could bring new opportunities, though these shifts will require increased vigilance over all aspects of the supply chain.
In the U.S., the Trump Administration is expected to bring greater enforcement to the CBP. The 2015 Trade Facilitation and Trade Enforcement Act (TFTEA) was implemented under the Obama Administration, bringing several new processes for trade compliance in the first sweeping customs legislation in decades. Some of these changes have been concerning to importers, including seizure of goods under the repeal of the "consumptive demand" exemption, a new framework for investigating allegations of antidumping and countervailing duty evasion, and new identity establishment standards for customs brokers. Trump's strong rhetoric on punishing "cheaters" could see an even greater expansion of enforcement efforts targeting not just other nations but companies as well.
Populism continues to surge throughout much of Europe. While the effect that this will have on global trade remains to be seen, the internalized focus of this movement may mean that fewer trade deals get completed. Pending deals such as the Transatlantic Trade and Investment Partnership (T-TIP) may wind up on the chopping block, and the EU itself may fracture further if instability continues to threaten. Other countries could use stepped-up enforcement efforts in the U.S. as a blueprint, turning small oversights into costly mistakes.
Getting in Gear for 2017
While our predictions for the coming year provide a roadmap for companies, unforeseen threats can derail progress and growth. Many global companies are embracing software solutions to help streamline import and export compliance tools and automate supply chain audit procedures.
Automating trade compliance within your integrated global supply chain will bring the best dividends, by keeping your company on the cusp of today's shifting regulatory environment. Having an automated system in place to monitor regulatory changes as they happen will be necessary to manage risk and drive towards higher profits.
The only thing certain about the road ahead in 2017 is that changes are coming. Companies must prepare for a range of possible outcomes. Keeping pace with a rapidly-changing regulatory environment can be a compliance nightmare unless a company has the right tools in place.
Download our white paper, Bracing for Instability in Global Trade, for more information on how to manage inevitable supply chain disruptions.