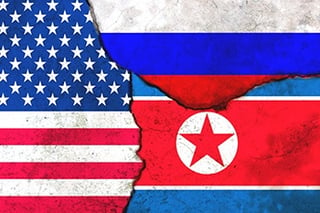 In recent years, importers and exporters have needed to stay on their toes regarding changes to trade rules of all kinds, and that is rightly causing trepidation.
Economic and trade sanctions are the most widespread and powerful means of displaying disdain for one country's actions on the world stage. Unilateral or bilateral sanctions are strong penalties that restrict trading activity of goods imported from or to a country. They might also be used to assess duties on particular goods in retaliation for another country's trade sanctions.
In the past few weeks, we have seen aggressive activity regarding some of the politically embroiled countries. Here is the most recent news regarding sanctions against Russia, Iran, Ukraine and North Korea.
Russia: On August 2, 2017, President Trump signed into law the "Countering America's Adversaries Through Sanctions Act" (CAATSA), providing the ability for the US to impose sanctions on Russia. On January 29, 2018, the Treasury Department, in consultation with Secretary of State and the Director of National Intelligence, delivered a report to the specified congressional committees regarding significant senior political figures and oligarchs in the Russian Federation and Russian parastatal entities.
Finally, last week a report from the special investigation regarding Russia's interference in the 2016 US election and attempted hacking of the US electric grid was presented to officials and the US announced that it would enact new sanctions on Russia. In total, the administration applied new sanctions on five entities and 19 individuals.
Simultaneously, UK Prime Minister Theresa May announced sanctions in response to the poisoning of former double agent Sergei Skripal and his daughter by a Russian-made nerve agent.
May announced a range of measures including:
the expulsion of 23 Russian diplomats in 'the biggest single expulsion in 30 years'
new travel restrictions and providing UK border officials with the power to detain those 'suspected of hostile state activity'
the freezing of Russian state assets where there is evidence that they may be used to 'threaten the life or property' of UK nationals or residents
the suspension of planned UK-Russia meetings and attendance of UK representatives at the World Cup to be held in Russia
deployment of 'a range of tools from across the full breadth of our national security apparatus in order to counter the threats of hostile state activity' in hopes of halting further cybercrime by Russian operatives.
Just this past Friday, Russia said it would respond with more restrictive and punitive measures against the US and UK, announcing plans to expand a blacklist of Americans and to expel British diplomats from Russia.
Iran: A bill named for House Foreign Affairs Committee Chairman Ed Royce was introduced in US Congress last week. If enacted as law, the Royce Bill would expand sanctions against Iran's Islamic Revolutionary Guard Corps ('IRGC') adding the organization and its known members to the OFAC list. In October, President Trump described the IRGC as a 'corrupt personal terror force and militia' of Iran's Supreme Leader. If introduced, the Royce Bill would amend Section 301 of the Iran Threat Reduction and Syrian Human Rights Act of 2012 ('ITRA').
Ukraine: The US and EU have imposed restrictive measures on the assets of 13 persons identified as responsible for 'the misappropriation of Ukrainian state funds' or 'the abuse of office causing a loss to Ukrainian funds' following Russia's illegal annexation of Crimea and the deliberate destabilization of Ukraine in February 2014. Last week, the EU Council extended those sanctions for another year, and the US extended its national state of emergency status for the Ukraine.
North Korea: On March 5, 2018, the US Department of the Treasury's Office of Foreign Assets Control ('OFAC') amended and re-issued the North Korea Sanctions Regulations ('NKSR'). The changes give further details about the existing NKSR providing a more comprehensive set of regulations covering all of the sanctions imposed on North Korea by the US government in recent years, together with additional guidance in an FAQ format.
These new documents emphasize that all US persons (and financial transactions within or transiting the US) must comply with OFAC regulations. The property (or interests in property) of the government of North Korea is blocked and US persons are not allowed to deal with them without the authority of OFAC. The republished regulations also emphatically remind potential violators of the penalties, including significant civil monetary penalties, referral for imprisonment, or both.
Ultimately, these and other trade restrictions impact importers and exporters. Companies engaged in global trade must manage a tremendous amount of information to establish and maintain compliance with regulations.
To efficiently import or export goods, shippers need fast access to data for all the countries where they trade. Unfortunately, collecting, cleansing and publishing trade content is complicated by the number of countries and government agencies, differences in trade regimes, wide variety of formats, and rapidly-changing information. Trying to maintain a complete and accurate database of denied or restricted parties can be time-consuming and costly.
Many companies have elected to embrace technology and acquire an enterprise solution to help them manage restricted party screening. Given the sheer volume of sanctions and denied party lists, coupled with the fast-paced logistics processes most companies have, screening the customer base manually is not only inefficient, but in many cases impossible. Shippers can also utilize Amber Road's robust database to determine the need for an export license or other documentation.
Last year, Amber Road made over 16 million trade content updates in Global Knowledge. How sure are you that your company is up-to-date – and how quickly can you respond to changes? Protect your company and its employees. Learn more about Amber Road's GTM solutions for import and export management powered by our Global Knowledge extensive content team. Here is a video to get you started: