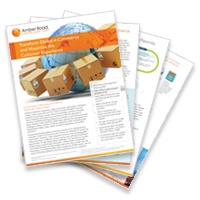 Global e-commerce is growing in leaps and bounds, particularly in emerging markets, where consumers can find it hard to locate affordable imported products in local shops. As the trend of cross-border commerce increases, many companies are embracing e-commerce to fulfill the demands of customers worldwide seeking products not available at local brick-and-mortar stores. However, these significant global sales opportunities also present the challenge to deliver a positive customer experience while combatting high
shipping fees, hidden costs, import and export regulations, and product restrictions.
Companies providing global e-commerce services must understand their customers' need for convenience and remove any obstacles for embracing cross-border commerce. By leveraging a cloud-based global trade management (GTM) solution, you can create a frictionless global e-commerce experience for your customers.
Amber Road's new white paper, Transform Global e-Commerce and Maximize the Customer Experience, provides an overview of the global e-commerce landscape and explains how a GTM solution allows you to manage all your global e-commerce touchpoints. Some of the various capabilities allow you to:
Improve the user experience with comprehensive order and shipment visibility
Drive brand loyalty and customer preference versus the competition
Reduce shipment costs, returns, and customer order cancellations
Ensure compliance with all international trade regulations
Don't let your e-commerce operations fall behind - download this white paper and discover how technology solutions can provide capabilities that comprehensively address your global e-commerce challenges!
This post was published on January 12, 2017 and updated on January 12, 2017.