Transportation costs continue to creep into a product's profit margin. A recent study found that 58% of shippers cite transportation costs as their highest concern. Today, this concern has only grown.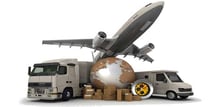 During this webinar, presenters
will discuss how a digital supply chain can help curb these costs and enable your organization to:
Access siloed data for better decision-making across multiple carrier lanes and contracts
Monitor the movement of goods at the shipment, order, SKU, and carrier level
Track carrier KPIs and analyze different routes to ensure freight lane optimization
Improve communication with carriers so you can report at-risk events proactively and expedite resolutions
Gain full control tower visibility and management from end-to-end
Transportation costs don't have to get in the way of your company's success, our presenters will explain how to work through them. Tune in to hear from:
Gary Barraco, Director, Global Product Marketing - Amber Road
Ken O'Brien, Chief Operating Officer - Gemini Shippers Group
Vin Ramundo, Solutions Consultant - Amber Road
David Maloney, Editorial Director - DC Velocity
Register today
to discover how your company can make transportation costs more manageable!
This post was published on June 19, 2018 and updated on June 19, 2018.