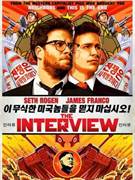 On January 2, 2015, President Obama signed a new Executive Order imposing additional sanctions against North Korea. This came in response to North Korea's numerous provocations, in particular the cyber-attack on Sony Pictures Entertainment.
Sony was targeted as it prepared to release the movie "The Interview," a comedy about a C.I.A. plot to kill Kim Jong-un, North Korea's leader. Movie theaters and moviegoers were threatened with "acts of terror" if they watched the movie. As a result, the sanctions reflect the commitment of the U.S. to hold North Korea accountable for its "provocative, destabilizing, and repressive actions, particularly its efforts to undermine U.S. cyber-security and intimidate U.S. businesses and artists exercising their right of freedom of speech," according to the Secretary of the Treasury Jacob J. Lew.
Accordingly, the sanctions deny designated persons access to the U.S. financial system and prohibit U.S. persons from engaging in transactions with North Korea. In particular, the U.S. sanctioned 10 North Korean government officials and the three organizations: Reconnaissance General Bureau, Korea Mining Development Trading Corporation, and Korea Tangun Trading Corporation. Consequently, U.S. companies need to ensure they are compliant with government regulations and protect themselves against export violations by using an automated platform that can have trade regulatory updates in their system in as little as 24-48 hours after the restrictions are published.
Download our white paper on Six Best Practices to Improve Compliance with a Restricted Party Screening Solution to learn how to avoid fines and penalties due to non-compliance with the North Korean sanctions.

To read more about the recent sanctions, please read this U.S. Department of the Treasury press release.
This post was published on January 5, 2015 and updated on January 16, 2015.