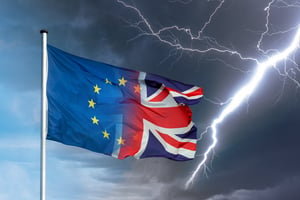 With just over six months to go before the ongoing divorce saga of Brexit is finalized, the UK government is preparing businesses for the possibility of a 'no-deal Brexit'. In this scenario—which they insist is really, really unlikely—the UK and the EU will split on March 29, 2019 without an agreement in place outlining their new relationship. This would affect every business in the EU and UK that conducts cross-border trade, along with companies that currently export to the UK under EU rules.
To mark the possibility of a no-deal Brexit, the UK government released a series of 25 documents with advice for how British businesses and others can prepare for this scenario. These documents represent the first batch of a planned 80 technical notices which will cover every aspect of life and business in Britain post-EU.
For global value chains, the prospect of a 'no-deal Brexit' represents the worst-case scenario, but it's important to begin taking steps to ensure operations continue if this comes to pass. The documents that relate directly to trade in the August 23 release include "Trading with the EU if there's no Brexit deal," goods classification, and VAT for businesses.
The bottom line for trade is that, with no deal in place, tariffs for UK imports would revert to the WTO's most-favored nation (MFN) rates. While the UK guidance stresses that they will work to minimize disruption for importers and exporters, the likelihood of being completely prepared on Day One remains slim. UK businesses trading with the EU would need to register as UK economic operators, with import and export declarations filed with the UK. The guidance recommends hiring customs brokers, warehousing or implementing software solutions to facilitate the process.
If your business operations will be impacted by Brexit, Amber Road's Global Trade Management software, powered by our Global Knowledge® database, can help. Having a fully automated, digitized supply chain is the first step to create the resilience needed to weather this storm. With connected supply chain visibility, you can safely address the risks and challenges of Brexit while simultaneously identifying new opportunities. A connected supply chain will help you:
Identify opportunities for duty savings using EU and future UK trade agreements and make use of suspensive regimes.
Identify potential supply chain risk issues (e.g. bottlenecks caused by missing data needed to support new UK regulations)
Identify duty-related benefits which could disappear or be at risk after Brexit (e.g. accumulation within EU FTAs)
Re-design manufacturing and your supply chain to minimize disruptions and maximize new benefits with a global approach
Though the next few months will continue to be a period of uncertainty, Amber Road will be conducting impact assessments and ensuring our software runs smoothly for all our valued customers. With our large staff of in-house trade compliance specialists around the world, we will continue to monitor the latest Brexit updates as they happen, staying up-to-date on changes to customs and tax laws. Our customers will be among the first to know of these changes through our Global Knowledge updates, keeping supply chains moving, even in the case of a bad breakup.
This post was published on September 4, 2018 and updated on September 4, 2018.