The Key to Frictionless Global Supply Chain Execution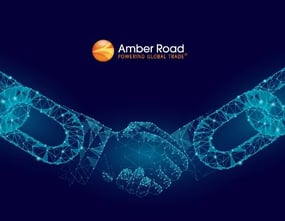 Whether you subscribe to the notion that blockchain-enabled supply chain solutions will see meaningful adoption this year, this decade, or never, it is impossible to deny the tsunami of investments moving the industry from concepts to enterprise-wide deployments.

Join American Shipper and Amber Road on June 28 at 2pm EDT for an upcoming webinar, Blockchain-Enabled Purchase Orders: The Key to Frictionless Global Supply Chain Execution. The hour-long broadcast will explore how blockchain at its core is a tool for systems integration and how the humble purchase order may hold the key to frictionless global trade management and supply chain execution.
Amber Road and American Shipper will be joined by experts who are leading the blockchain innovation. The webinar line-up includes:
Dan Gardner, VP Supply Chain at Lakeshore Learning Materials & Co-founder of Trade Facilitators, Inc.
Daniel Pickett, Head of Data Standards at Blockchain in Transport Alliance (BiTA) & Chief Data Scientist at FreightWaves
Ty Bordner, SVP Marketing and Business Development at Amber Road
Moderated by: Patrick Duffy, Research Director at American Shipper
Prior to founding Trade Facilitators, Dan Gardner spent 23 years in Third Party Logistics business where he held senior management positions with entities that include Exel Global Logistics and DHL Global Forwarding. During the broadcast, Gardner will explore how purchase orders are key to digitizing (and therefore Blockchaining) the global supply chain process.
Daniel Pickett heads up the development of a common framework and data standards at Blockchain in Transport Alliance (BiTA) and he is the Chief Data Scientist at FreightWaves (the company behind BiTA). Pickett will follow-up Gardner's discussion with an urgent exploration of the need for standards along with the current and future state of that challenge.
Lastly, Ty Bordner will wrap up the webinar. Coming from over 22 years' experience in the Global Trade Management software market, Bordner will delve into the need for an application to be the blockchain "glue". A global trade management application can serve as the central hub whereby global companies can communicate to and from all the various blockchain applications out there (both now and in the future). In other words, the proper blockchain application can go beyond visibility to supply chain transparency.
We hope to have you join us on June 28 at 2pm EDT to discover the key to frictionless global supply chain execution. Register now!