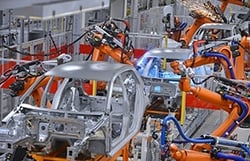 Even with all of the rhetoric around moving manufacturing back to the United States, the numbers are crystal clear that US manufacturing is moving away from any significant reshoring shift. In Forbes magazine last week, Steve Banker wrote about the July release of A.T. Kearney's 4th annual Reshoring Index, which shows the relative growth of imports from distant, low-cost country trading partners has now outpaced the relative growth of US manufacturing gross output.
Since 2013, when A.T. Kearney first started tracking reshoring as a phenomenon, imports of manufactured goods from the 14 largest low-cost countries have increased by 19 percent, while US manufacturing gross output has grown by only 1 percent.
"We see companies relocate manufacturing capabilities between low cost labor countries, like moving from China to Vietnam, or maybe from Asia to Mexico, but we are not seeing any reshoring activity," says Ty Bordner of Amber Road. The rising demand for solutions that digitize the global supply chain and allow companies to collaborate better with their overseas supplier base and automate cross-border transactions is a clear indicator of the continuing trend to source goods from low-cost labor markets. Further validation from Bordner makes it clear that offshore production is burgeoning still, "We see growth especially in the demand for supplier collaboration and free trade agreement solutions."
Read more by clicking here.