Continued from Chapter 9: Validating the Return on Investment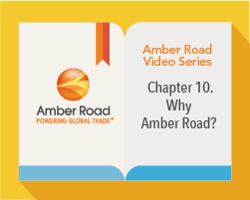 Global trade has become increasingly complex over the past decade. In order to remain competitive and continue to grow, organizations must take full advantage of the global economy. Unfortunately, many global trade executives admit they have serious difficulty managing their international supply chain.
Fortunately, real help is available! The final chapter of our video series explores why Amber Road offers solutions that no other company can.
In chapter 10, Why Amber Road, you'll discover why our comprehensive solution stands out in the market of global trade and how technology can help optimize and automate your global supply chain. In fact, many of our customers, including some of the world's largest enterprises, have automated their global trade processes for the first time with our comprehensive solution. We can do the same for you!
Now that you have completed the video series, you should have a better understanding of how Amber Road has changed the way companies conduct global trade. Contact us today to arrange a time to discuss your global trade needs!
This post was published on December 14, 2016 and updated on December 14, 2016.