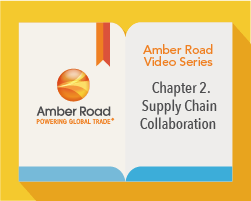 Continued from Chapter 1: The Challenges of Global Trade
Companies that rely heavily on manually intensive processes struggle to get their products from concept to creation in an efficient manner. With multiple product lines and changing consumer demands, the sourcing and production phases within the product lifecycle require close collaboration between companies and their buyers and suppliers. A lack of communication can lead to bottlenecks and increased costs. It's imperative for companies to find a way to effectively collaborate with their suppliers to ensure success.
The second video in our series continues along the journey of a product as it makes its way through the supply chain. In chapter two, we explain how Amber Road's Supply Chain Collaboration Solutions provide companies with complete visibility into the design, sourcing, testing and production processes, while improving collaboration with suppliers, vendors, service providers, and 3PLs. Having access to accurate order and shipment statuses, streamlined communication, and a means of collaboration will result in faster cycle times and increased profits. The benefits of our solutions can make all the difference between having a competitive advantage and being left behind.
We'll introduce the third video in the series in a couple weeks, so stay tuned. Don't forget to subscribe to our blog so you can follow along with our story and learn how to improve your global trade practices along the way.
This post was published on August 24, 2016 and updated on August 8, 2017.