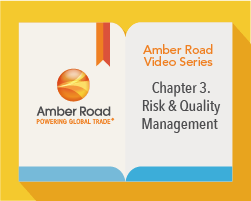 Continued from Chapter 2: Supply Chain Collaboration Solutions
A single supply chain disruption has the ability to negatively impact a company's reputation. With global organizations operating in an environment of ever-changing regulatory constraints, brand manufacturers and retailers must take measures to help ensure accountability and full supply chain transparency.
The third video in our series continues along a product's journey through the supply chain, and emphasizes how important it is for brands to have complete visibility into their product lifecycle to avoid potential production failures, costly fines, and brand-damaging outcomes.
In chapter 3, we explain how Amber Road's Risk & Quality Management solutions help manufacturers and retailers create the most proactive and responsive supply chain possible to avoid negatively impacting their brand's reputation. Implementing risk mitigation practices are not only a competitive advantage, but a critical lifeline for brand survival.
We'll introduce the fourth video in the series in a couple weeks, so stay tuned. Don't forget to subscribe to our blog so you can follow along with our story and learn how to improve your global trade practices along the way.
This post was published on September 7, 2016 and updated on September 20, 2016.