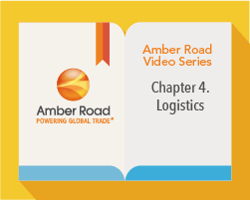 Continued from Chapter 3: Risk & Quality Management
Transporting goods internationally requires a carefully coordinated approach. Multiple hand-offs and responsibilities across borders and trading partners add both cost and complexity. If you don't have the right processes in place (and the tools to support them), your bottom line will suffer.
The fourth video in our series continues along a product's journey through the supply chain. Once the product has been designed, tested, and manufactured, it must be delivered to consumers in a cost effective manner. This requires finding a carrier that fits your rating and routing requirements, and then tracking that cargo to make sure you are meeting critical milestones.
In chapter 4, we explain how Amber Road's Logistics solutions provide a range of capabilities to identify and remove inefficiencies, resulting in shorter cycle times and less variability. Our solutions help you automate and link crucial business processes with the associated information flows, giving you the visibility you need to run an efficient supply chain.
We'll introduce the fifth video in the series in a couple weeks, so stay tuned. Don't forget to subscribe to our blog so you can follow along with our story and learn how to improve your global trade practices along the way.
This post was published on September 21, 2016 and updated on October 5, 2016.