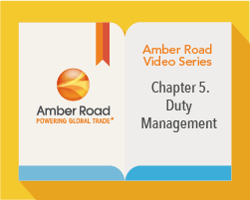 Continued from Chapter 4: Logistics
Minimizing duties is one of the fastest and easiest ways to squeeze significant financial returns out of a company's global supply chain. Duty minimization opportunities come in many forms, but many companies fail to take advantage of these programs due to the perceived difficulty of qualifying for and administering them.
The fifth video in our series explains how automating the duty management process is the best way to reap the benefits – like cutting duties and taxes by 80-100%.
In chapter 5, we explain how Amber Road's Duty Management solutions help companies simplify and automate the qualification and administration process and manage Foreign-Trade Zones. Learn how your company can automate the duty management processes and start seeing substantial savings today!
We'll introduce the sixth video in the series in a couple weeks, so stay tuned. Don't forget to subscribe to our blog so you can follow along with our story and learn how to improve your global trade practices along the way.