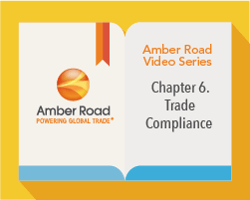 Continued from Chapter 5: Duty Management
The growth of globalization – along with the proliferation of country-specific trade rules – adds to the complexities that global trade organizations already face on a daily basis. Companies that rely on spreadsheets or increasing personnel only make their trade compliance management less efficient.
The sixth video in our series explains that in order for companies to survive this volatile environment, they need to automate their global trade needs and ease off of costly, manually intensive processes.
In chapter 6, we explain how Amber Road's Trade Compliance solutions automate all compliance functions, optimize sourcing and distribution strategies, and provide rich analytics to help professionals better understand their trade flows.
We'll introduce the seventh video in the series in a couple weeks, so stay tuned. Don't forget to
subscribe
to our blog so you can follow along with our story and learn how to improve your global trade practices along the way.
This post was published on October 19, 2016 and updated on December 14, 2016.