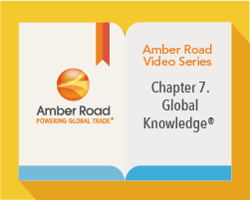 Continued from Chapter 6: Trade Compliance
Organizations buying or selling goods globally are overwhelmed with the mountain of legalese and red-tape required to establish and maintain compliance with government regulations. Language barriers and rapidly changing information add to the existing complexity of global trade.
In chapter 7 of our video series, we explain how Amber Road's Global Knowledge®, the industry's most comprehensive global trade content database, powers our solutions and services. With access to this massive, intelligent repository, your organization can streamline processes, reduce the need for resources to perform manual data research and entry, and focus on initiatives designed to drive more business.
We'll introduce the eighth video in the series in a couple weeks, so stay tuned. Don't forget to subscribe to our blog so you can follow along with our story and learn how to improve your global trade practices along the way.
This post was published on November 2, 2016 and updated on November 2, 2016.