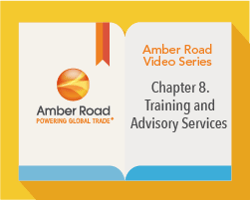 Continued from Chapter 7: Global Knowledge®
An ever-increasing demand to do more with less means companies are directly turning to automation to streamline their operations and to ensure greater efficiency. However, the best content and practices in the world are only useful if you have people in place who understand it and can put it to use.
That's why Amber Road's Global Trade Academy educational and development training courses and trade advisory services are designed to meet the needs of your global trade operations.
In chapter 8, we explain how Amber Road's Training and Advisory Services are the premier source for comprehensive training and professional development in the areas of customs and trade compliance, import/export management, global logistics, risk assessment, and international commerce. It's best to think of us as your one stop resource for global trade management training and professional development.
We'll introduce the ninth video in the series in a couple weeks, so stay tuned. Don't forget to subscribe to our blog so you can follow along with our story and learn how to improve your global trade practices along the way.
This post was published on November 16, 2016 and updated on November 16, 2016.