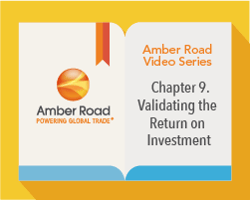 Continued from Chapter 8: Training and Advisory Services

Trade compliance is critical to ensuring that an organization's international orders and imported goods comply with the trade regulations of both the country of export and the country of import. Yet only a small percentage of global companies have implemented a formal trade compliance program for their global shipments.
The ninth video in our series explores how companies can lower cost and increase efficiency to achieve a sustainable competitive edge.
In chapter 9, Validating the Return on Investment, we explain how Amber Road's single, on-demand platform automates and streamlines a company's global trade processes in the most efficient, compliant and profitable way. Consulting Amber Road's experts, we can build a case for validating ROI by specifically addressing your company's need for technology and how our solutions can add value.
We'll introduce the tenth video in the series in a couple weeks, so stay tuned. Don't forget to subscribe to our blog so you can follow along with our story and learn how to improve your global trade practices along the way.