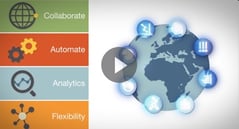 We are pleased to announce the release of the newest video in our Video Hub - Transforming Your Global Supply Chain!
The world of global trade is fast-paced, ever-changing, always evolving. In order to keep pace, your supply chain processes and technology need to evolve too.
As companies expand global operations to take advantage of cost savings in other regions, they are put under pressure to deliver the right product at the lowest price into the waiting hands of customers. To address this complex environment, organizations need to take a holistic, integrated approach to digitizing and yield the benefits that come with it. Watch this video to learn more about the value from a digital global supply chain.