In a new customer testimonial video featuring Benjamin Moore, Peter Shea, Senior Manager of Customs Import/Export Compliance, discusses how the challenges associated with achieving their company mission led them to Amber Road and ultimately to saving millions of dollars, accelerating cash flows and making massive progress in just four months.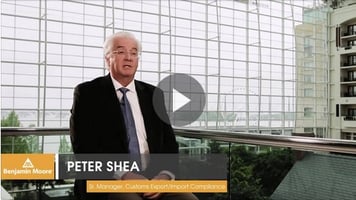 Benjamin Moore had a very common problem; they needed a way to more efficiently distribute products to their customers, free of wait times for certificates of origin to re-classify tariff codes for NAFTA qualification. Utilizing Amber Road's Trade Agreements Solution, Benjamin Moore overcame their challenges by automating and centralizing their NAFTA processes, which automated their supplier solicitation, qualification and certificate management practices. Benjamin Moore was able to achieve this in such a short amount of time that even the COO was impressed.
Watch this video to hear Benjamin Moore's full story and learn how Amber Road can help you too.

This post was published on September 28, 2017 and updated on November 29, 2017.