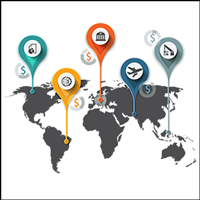 The new year is quickly approaching and so are changes to the U.S. Customs and Border Protection (CBP)'s drawback program. The "simplified" duty drawback program will enable eligible importers and exporters to claim 99% of duties, fees and taxes back.
Join Amber Road's Global Trade Academy webinar, Duty Drawback Simplification - Earning More ROI on Your 2018 Supply Chain! on Thursday, December 7th at 2PM EST.
During this hour-long broadcast, we will outline the changes to duty drawback laws taking effect in early 2018. The new duty drawback law (HR 644) will become effective on February 24, 2018 and will provide extensive opportunities for US based companies for refunds on imported goods that are then exported.
The presenter, Brenda Sweetman, is a veteran drawback specialist who recently embarked on her own forming Sweetman Drawback Services LLC (SDS). Brenda has a BS and M.Ed in Education is both a licensed Customhouse broker and Certified Customs Specialist. Brenda has a strong background in duty drawback and speaks frequently on the topic, including her role as one of Global Trade Academy's Duty Drawback Specialist Certification instructors.
Key highlights of this webinar include:
Drawback claims - 8-digit HTS substitution vs commercial interchangeability
Drawback time frames and record keeping requirements
What to know about claims on MPF, HMF, and manufacturing substitution
Unused drawback and calculating potential drawback
With 2018 around the corner, it is a critical time for your organization to develop strong duty savings strategies. The new duty drawback law presents the perfect opportunity for your organization to earn more ROI on your 2018 supply chain.
The new program's significant enhancements include an eight-digit Harmonized Tariff Schedule of the United States (HTSUS), increased drawback refunds, streamlined processes through an electronic filing requirement, amongst other hallmark changes. Join us on Thursday, December 7th to learn more!

This post was published on November 28, 2017 and updated on May 11, 2018.