Last month, Amber Road's Global Trade Academy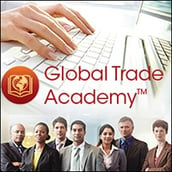 broadcasted a webinar Customs Valuation Essentials for Importing. Our presenter, Robin Grover, Consultant at Amber Road's Trade Advisory Practice received several questions throughout the webinar. Unfortunately, he did not have time to address them all during the live broadcast. We have compiled his answers into a Q&A document - here is a preview:

1. Does Customs have guidelines as to what constitutes acceptable "proof" to validate any deductions on the import value?
According to the Evidence of Actual Cost of Freight guidelines, Customs considers actual costs to constitute those amounts ultimately paid to the international carrier, freight forwarder, insurance company, or other appropriate provider of such services. Commercial documents to and from the service provider, such as an invoice or written contract separately listing freight/insurance costs, a freight/insurance bill, a through bill of lading, or proof of payment of the freight/insurance charges (i.e., letters of credit, checks, bank statements), are examples of some documents which typically serve as proof of such actual costs.

Customs goes on to address other types of documentary evidence that is acceptable at the discretion of the appropriate Customs port official: "A Customs official has discretion in accepting various types of evidence to verify the amounts deducted for freight."

2. If I'm importing equipment but sent my technician overseas with my tools to test the equipment before I pay for it, is that an assist?
The approach generally taken by Customs is whether the testing services and associated testing equipment is essential to the production of the item at issue or is just a post-production quality check. If the former, then it is an assist, if the latter, generally not.

3. In regard to packing costs, what if companies send pallets back and forth and no one charges the other for the cost of the pallet?
These appear to be reusable and, as such, are considered "Instruments of International Trade" (IIT) classifiable under subheading 9803.00.50, HTSUSA. Their value would not be included in the value of the shipments sent with the pallets. The pallets would instead be separately entered with their individual values under the Chapter 98 provision, which is duty-free. See HQ 54857 (March 19, 2003).


Click here to view the entire Q&A document.

For more information on compliance training in your company download our e-Learning Courses brochure!
This post was published on November 11, 2016 and updated on November 11, 2016.