Earlier this month, Amber Road's Global Trade Academy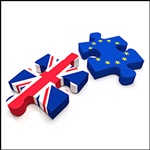 broadcasted a webinar The British Vote Brexit: How Will This Impact Global Trade in EU and US Companies? Our presenter, Arne Mielken, Senior Trade Specialist at Amber Road, European Union received several questions throughout the webinar. Unfortunately they did not have time to address them all during the live broadcast. We have compiled their answers into a Q&A document - here is a preview:
1. Would you foresee UK maintaining access to the EU market database if they paid a financial contribution to the maintenance of the database?
The EU's Market Access Database (MADB) gives information to companies exporting from the EU about tariffs and import formalities in third country markets. It is a good source of information for many small and medium-sized companies. The UK will need to determine its position in regards to trade and customs policies and access to the MADB could be one of the points of negotiations. The trade community should make sure it is not forgotten when the withdrawal terms of the UK from the EU are agreed upon.
2. What would potentially happen with Tariff Quotas for which the UK, as a member of the EU, applied for and got approved?
The UK Trade Tariff must change. The tariff is the main mechanism in all countries for controlling trade with other countries and how this is set up will be vitally important. Companies trading in the EU and the UK must then adjust their systems to cope with UK Tariff and EU tariff. At its simplest, the structure of the UK tariff will change after the harmonized 6-digit level, introducing new HS-codes to a 10-digit level. Most tariff quotas are currently managed by the Commission's Directorate-General responsible for Taxation and Customs Union on a 'first-come first-served' basis irrespective of where the goods are imported into the EU. Tariff Quotas will, as the UK leaves the EU, also need to be up for discussion and the system may be dissolved and replaced by something else.
3. Will multiple legal establishments be required? We are a US based company with a London legal establishment.
This is indeed a possible outcome. In order to trade inside and with the EU, a legal EU establishment may be required. If the UK leaves the EU, there would be no permanent establishment in the EU for a US based company with a UK legal establishment. This is yet to be determined, but US companies should keep a watchful eye on developments.
Click here to view the entire Q&A document.
For more information on compliance training your company and access to the full webinar recording, download our e-Learning Courses brochure!
This post was published on July 27, 2016 and updated on July 27, 2016.