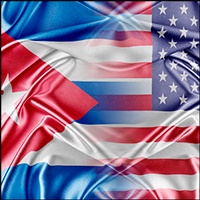 Last month, Amber Road's Global Trade Academy broadcasted a webinar Updates to the United States' Embargo on Cuba. Our presenter, Robin Grover of Amber Road's Trade Advisory Practice, received several questions throughout the webinar, but unfortunately he did not have time to address them all during the live broadcast. We have compiled his answers into a Q&A document - here is a preview:
Can we ship product made in China directly from China via a third party in a third country? An example would be building materials.
Again, anytime you as a "person subject to" U.S. jurisdiction wish to export, directly or indirectly, to an embargoed country such as Cuba, you must satisfy the requirements of both BIS (for the export of products) and OFAC (authorizing transactions with the sanctioned country). It is important to note that the U.S. embargo remains in effect; as you are covered by it, you must either obtain an export license or qualify under a license exception to deal with Cuba.
Do you expect further liberalization of the U.S. sanctions on Cuba in the near future and what form might they take?
Yes, I would expect that the travel authorizations may be broadened substantially given the extensive scheduled airline travel that I anticipate the Administration will authorize in 2016.
Although the full lifting of the embargo requires congressional approval, I expect we will see that after the 2016 presidential elections.
If I am a foreign national working for a U.S. company outside the U.S., do I need to comply with embargo?
Yes, with regard to any aspect your employment that may be attributed to your U.S. employer. For instance, as a foreign national you could not process shipments to Cuba on behalf of the company that the company could not do itself as it is a "person subject to the jurisdiction of the United States". Your employer could not transfer business opportunities with Cuba to you that they could not perform themselves. In other words, the full extent of US sanctions on Cuba apply to you in the course of your employment. As a foreign national on his or her own, however, you could freely travel to Cuba or even do whatever business you wish with or in that country as long as it has no nexus with, or in any way benefits, affects or is funded by your U.S. employer or any U.S. nationals.
Click here to view the entire Q&A document.
For more information on compliance training your company and access to the full webinar recording, download our e-Learning Courses brochure!