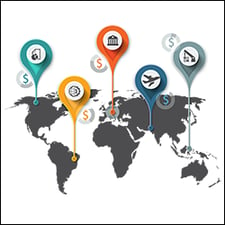 Last month, Amber Road's Global Trade Academy hosted the webinar, Duty Drawback Simplification – Earn More ROI on Your 2018 Supply Chain! The new duty drawback law (HR 644) is set to become effective on February 24, 2018. These simplifying changes will provide extensive opportunities for US-based companies to receive refunds on imported goods that are then exported.
Brenda Sweetman, President of Sweetman Drawback Services LLC (SDS), is a veteran duty drawback specialist who shared her expertise as the webinar presenter. Sweetman teaches Global Trade Academy's Certified Drawback Specialist Course and she is also a Licensed Customs Broker (LCB) and a Certified Customs Specialist (CCS).
We received a lot of great questions during the broadcast which Brenda has recapped in this blog post.
Q: Can you talk a little bit about how the new drawback law will affect Reconciliation?
A: With the new drawback law, I recommend not using entries under reconciliation – unless or until you are confident in both the classification and valuation of any merchandise that will be subject to drawback.
Q: How confident are you this will go into effect on February 24, 2018 & will ACE be ready for these new regulations by this date?
A: I am very concerned that the regulations will not be ready. Some within CBP are actually admitting that as a possibility now. At the same time, CBP has a legal obligation to be ready to accept claims filed under the new law on that date. I anticipate confusion and frustration.
While CBP says they have written the guidelines (CATAIR) for filing into ACE under the new law and regulations, I don't know how that is possible without the regulations available to review. I suspect they have seen a draft that the trade has not seen, but even so, I don't think they are truly prepared for what is coming.
Q: I have heard from my broker that Customs is not ready for the changes and will not be ready to go for filing in ACE come the deadline. What have you heard on this?
A: While there may be truth in that statement, I think everyone needs to do everything possible to be prepared in time. CBP is under a lot of pressure to be ready and they will do everything possible to accomplish that goal. They will be ready for change, even if they are not ready for everything.
Q: Will the Bill of Material Requirement be required for Manufacturing Drawback only?

A: In general, bill of materials relate to manufacturing. However, if a packaging operation results in importing various components and exporting under a different, finished/packaged product number, then a packing bill may be required and it would be subject to the same requirements as traditional manufacturing bills of material.
Q: How could/or do the NAFTA negotiations impact the duty drawback changes?

A: Those closely monitoring the changes in the drawback law and regulations have also had the opportunity to present information on the needs and desires of the drawback trade to representatives of the USTR's office. However, the NAFTA negotiators have not indicated what, if any of their proposals, will be taken into account. For now, those negotiations have no impact on what is being done with the drawback law and regulations. However, there remains hope that the negotiators will withdraw the drawback restrictions within NAFTA before their negotiations are completed.
Q: Once the new rules are in place, will one be able to go back to 5 years and make claims using the new rules? For example, in late 2018, will I be able to go back to 2015 entries to claim drawback under the new rules?
A: Yes you will, as long as the entire transaction stays within the 5 year window from import to filing.
Q: Regarding substitution drawback on imported articles in which the rate of duty is both free (GSP) and rated duty, do all of the import entries including those that are duty free need to be included in the pool of entries or do you pull from the dutiable entries only?
A: As you seem to already know, we do face the challenge of including all inputs, even those that are duty free, when building an import bank under the accounting methods for direct identification. I have not read of such a requirement under the new law for substitution but we'll have to see the regulations before we know for sure.
Q: If merchandise is destroyed for some reason that relates to imports contrary to law - for instance IPR violations. Are duties remitted on these goods recoverable if the goods are destroyed?
A: I see no reason why not. There might be some challenges in coordinating the destruction on merchandise that may have never been released from CBP custody but if duty was paid, drawback will be allowed. Please don't do this without prior notice to CBP by filing a CBP7553.
Q: What is IR?
A: "Internal Revenue" as related to IR taxes.
Q: Could a repair process count as unused or manufacturing drawback?
A: Repairs are an allowable operation under Unused Merchandise drawback.
Q: Under Manufacturing Drawback, Substitution method with 8-digit HTS#, if I import part A but use domestic part B (of same 8-digit HTS#) in exported finished goods, can I get drawback on A based on export of FG using B?
A: Yes, this is the concept of substitution at its best!
Duty Drawback simplification proved to be a hot topic for 2018. If you would like to learn more, the webinar will be made available on Global Trade Academy's e-Learning Platform. For more information please reach out to us directly: Global Trade Academy.

This post was published on January 5, 2018 and updated on January 10, 2018.