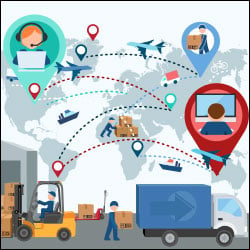 A few weeks ago, we held a lively webinar with Megan Coale from Vera Bradley and Cheryl Layne from our customer success team. We talked about the implementation of Amber Road's solutions used by the teams at Vera Bradley to produce their iconic products. Vera Bradley is a manufacturer of stylish quilted cotton luggage, handbags and accessories. With small-town roots in Indiana, the brand has grown to $500 million in annual sales, serving customers all around the globe. Known for its distinctive and colorful fabrics and trims, some of the core company values that originated at Vera Bradley's birth 20 years ago still exist – high quality products, produced by suppliers in a timely fashion, and of course, those recognizable, trend-setting fabrics. These are the expectations of customers today, and Vera Bradley has it in the bag.
Business drivers for automation
We set the stage by reviewing how Vera Bradley operates its material development, supplier, order management and production tracking programs. This led to reviewing the business drivers which were the catalyst for Vera Bradley to automate through the Amber Road solution.
One of the primary goals of the project was to establish a platform which would provide a single version of the truth across multiple systems already in place. During the online poll of the audience, we found that 48% of the attendees integrate 2 or more systems to gain visibility across the supply chain; primarily pulling ERP and PLM data together. Vera Bradley is using SAP ERP and PTC FlexPLM, so the project required one-way and two-integration of certain data into the Amber Road platform.
The next driver for moving to a consolidated platform was the need for increased visibility and collaboration between vendors, labs and internal development teams. Vera Bradley has sourcing locations both internationally and domestic based on the product category, so communication is important. "When we first started with the Amber Road solutions," Coale said, "Vera Bradley did direct purchasing with our material providers. We have evolved to allow our vendors to do that directly now. Instead, we found it is really important to use the solution to create a full material usage report as a consolidated way to know about material yardage availability throughout the season. This gives us the ability to communicate with finished goods vendor and provider recommendation about how they should be purchasing raw materials."
Integration between systems
With all of these requirements on the table, linking data from multiple systems through both inbound and outbound integrations would be key to unifying these processes into Amber Road. "We had data living in multiple silos," Coale said. Amber Road's implementation teams worked with the other software providers to ensure a smooth integration process. Cheryl Layne was responsible for the Amber Road project team, and she said one of the first challenges was to "determine which data needs to reside where; do we need to push material and color data into Amber Road, for instance. But once we were able to ensure there wasn't a huge duplication of data with no justification, everyone felt comfortable about moving ahead with data sharing."
Vera Bradley determined the base library would come from FlexPLM to import product, material, and color records into Amber Road. This would be used to determine status of approvals and development for the materials, triggering the sourcing team to move ahead with production orders. As vendors start sample and top of production runs, approvals are indicated in Amber Road. This data is passed back to FlexPLM so all of the systems maintain the same sample tracking data. "The [Amber Road platform] has been critical to help us capture all of the production tracking information," Coale said. "In addition, PO management and tracking of production samples, and the testing of these samples is equally significant as part of the overall process. Using the solution, we can ensure the product has met all of the standards before it hits the water."
At this point, SAP is used to generate the Finished Goods PO, which integrates into Amber Road for vendor access and collaboration. This allows the Vera Bradley sourcing team to release the orders at various times, delaying as needed based on customer demand. It also serves as a collaborative space for vendors to confirm the order data. Once finalized, all of this information is then pushed back into SAP ERP as the system of record for orders.
But the integration doesn't stop there. Amber Road's platform also feeds Finished Goods confirmed changes to Avery Dennison to produce the hang tag labels. Most recently, Vera Bradley has started using the same platform to manage product testing and Bureau Veritas integrates this important information into the system to ensure every order meets standards for consumer testing and import.
Enjoying the benefits, managing the change
Vera Bradley has been able to experience ROI, but has also been able to validate through the users that the job is easier to get done with technology. Like any other process change, there were growing pains. Coale shared, "it's nice that all of our vendors in Hong Kong and the U.S. have visibility and are all looking at the same information." However just because processes were in place before, didn't mean they would continue when the new technology was introduced. "One of the main goals of the project was to stick to the core, existing functionality in the modules and not customize," Layne said. "[Vera Bradley] wanted and was willing to change their internal processes if they didn't make sense. They looked to us for best practices."
On top of the large scope there was an aggressive 10-month implementation timeline to meet for kick-off. This brought challenges too. "We made slow transitions, rolling out to some of the more straightforward processes offering a phased approach and causing less disruption," Coale said. "We have roughly 95% of the vendors running on Amber Road today. The on-boarding process helps streamline this process. The vendors and 3rd party testing labs all communicate through the platform instead of email. This consolidates everything into Amber Road, with the interfaces to FlexPLM and SAP."
In the future, Vera Bradley is looking ahead to learn how to use Amber Road for other supplier functionality, like social compliance. "Once we have all of the supplier data in Amber Road, we can create an accurate scorecard for our vendors," Coale said. Ultimately, through strong reporting and proactive actions, Vera Bradley's supply chain can operate with greater efficiency.
Click here to watch the entire webinar on-demand. Interested learning more about Amber Road's Supply Chain Collaboration solutions? Click here to download our brochure.

This post was published on December 5, 2016 and updated on September 8, 2017.