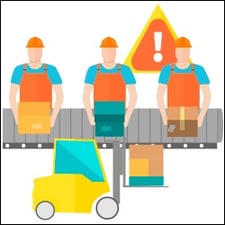 Over the past few months, Amber Road broadcasted a webinar series on Total Supply Chain Risk Management. Our presenters received many questions throughout the series, but unfortunately they did not have time to address them all during the live broadcasts. We have compiled their answers into a Q&A document - here is a preview:
What are some other sources for benchmarking and best practices for setting up a Corporate Social Responsibility Program?
One of the best ways is to go on the sites of companies that are subject to the California Transparency in Supply Chain Act. In addition to the sources we discussed on the webinar, you'll find some great best practices on these sites.
Do you see something similar to ISF 10+2 for maritime imports coming to air freight?
Yes. There is already a Known Shipper program in the U.S. for shipping on passenger aircraft and at some point it is likely that something similar to ISF 10+2 will be applied to all air imports coming into the U.S.
What is the obligation and legal liability of a company if they sell a product domestically and that company exports the product contrary to the EAR?
U.S. manufacturers need to vet domestic customers that buy goods subject to the EAR. Think back to the 5 Basic Questions and 10 General Prohibitions, and put a program in place that includes specific questions on the intended use, as well as end user of the goods. To avoid issues, it is also a good practice to have a paper trail that substantiates the vetting of domestic customers and their intentions for using a product, especially things like Diversion Clauses and explicit reference to the EAR, exports and re-exports.
As a smaller company, we have a difficult time setting aside a significant portion of our budget towards automation. What benefits do you see that are worth us spending the money to have an automated process?
Even as a small company importing or exporting non-sensitive materials, there are still many benefits to implementing an automated process. Restricted Party Screening is still something that everyone needs to take into account when transacting business. An automated program can quickly screen or rescreen partners to identify if they are safe to do business with. A limited RPS tool can still fit in a small company's budget.
Click here to view the entire Q&A document.
Missed a part of the webinar series? Watch the Product Testing, Social Compliance, Cargo Security and Trade Compliance webinars on-demand now!