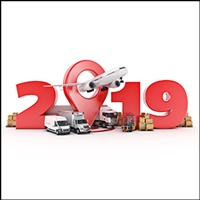 2018 is fading fast. Even though global trade and commerce has been lively all year, not all regions and industries are seeing a comparable benefit. US consumer spending continued to rise which inspired hope for companies in some industries, while the on-going tariff battles are causing other companies to make dramatic shifts in production and sourcing. As we look ahead to 2019, companies with global supply chains must remain vigilant with this unexpected mix of improvement and disruption.
Amber Road's webinar, The Top 6 Global Supply Chain Expectations of 2019, broadcasting live on December 19th 2018 at 2:00 PM EST, outlines the top issues that your 2019 digital strategy should address.
Presented by an esteemed panel of supply chain experts, this webinar focuses on the six major areas of concern for anyone playing a part in global trade:
Uncertain Trade Policies
It is critical to be tuned into the geo-political topics that impact the direction of global trade, especially the implementation of punitive and retaliatory tariffs. How companies react to these developments will be critical for ensuring growth and productivity, and minimal risk.
Sourcing Shifts
Supplier base diversification is almost inevitable as companies deal with the impact of a tariff battle that continues to cause uncertainty across the globe while moving from a "China Plus One" strategy for sourcing. Changes in sourcing and production complicate the export/import compliance challenges and increases regulatory risk
Consumer Trends
Consumer demand guides supply chain movement and determines business practices. Companies must learn to shift from a product-focused supply chain to a consumer-centric one.
Leveraging Technology
Staying ahead of the competition in an unpredictable trade environment requires digital technology such as IoT sensors and software that can take action in real time, seizing opportunities to stay proactive rather than reactive.
Transportation Troubles
2018 saw capacity issues brought on by the predicament of carrier consolidation, as well as rising transportation costs. What will 2019 mean for the climbing demand for drivers and rates?
Labor Issues
An increase in global manufacturing brought on by the dynamic growth in consumer spending, has led to challenges for US companies dealing with higher-than-expected demand for transportation and warehouse workers.
Are you ready for the challenges of 2019? Take the first step in preparing for the year ahead by joining Amber Road as we discuss The Top 6 Supply Chain Expectations for 2019 - register today!