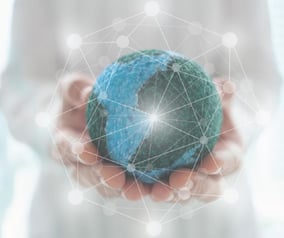 In 2017, global trade made a major comeback across global economies, inspiring hope that the climate is ready to improve. Simultaneously, the complexity of conducting global trade and complying effectively with numerous and growing regulatory and licensing requirements has also boomed. As we flip the calendar to 2018, companies with global supply chains must remain vigil within this peculiar mix of improvement and distress.
Today, every business is a digital business and the impact of digital strategies on supply chain management are of particular importance. For businesses around the globe, 2018 will be shaped by the success rate of digital transformation efforts. Amber Road's white paper, 6 Global Supply Chain Trends to Watch in 2018, outlines the top issues that your 2018 digital strategy should address.

Authored by Amber Road's very own Gary Barraco, Director of Global Product Marketing, the white paper urges global trade and supply chain professionals to be cognizant of these 6 primary concerns:
Retail supply chain's need for flexibility to avoid breaking
Europe and Asia are churning out FTAs while the US remains staunch
BREXIT's disruption as negotiations crawl along
China's dominance in global manufacturing and trade
Keeping goods moving is tougher than it looks, and pricier
CXOs' dual responsibility to present performance and future goals
In the Supply & Demand Chain Executive article, Trade Trends of the Past Shape the Future, Gary Barraco states: "To prepare for the new year, it's worth looking back at 2017. It was a year of great disruption for global trade and commerce: trade agreements canceled and renegotiated, catastrophic weather-related events disrupted supply chains, and e-commerce blew the doors off traditional retail."
These trends were identified as being the most critical for supply chains based on statistical data from idustry surveys, customer feedback, and market intelligence. Although there are other trends that should be "on watch," here are the facts supporting the 6 that we find to be the most important:
Retail Supply Chain's Need for Flexibility to Avoid Breaking
The number US retails shoppers on Thanksgiving and Black Friday fell 4% from 2016, while Adobe Analytics reported online sales over $5.03 billion—a 16.9% increase over the previous year.
Europe and Asia are Churning Out Free Trade Agreements While the US Remains Staunch
FTAs are heling EU businesses successfully compete and export more to outside countries and regions. They're received increased trade benefits from FTAs with Japan, Vietnam, and Singapore while the US has seen little to no action on the trade agreement front.
Britain's Exit from the EU is Already Causing Disruption
According to a survey by Ipsos Mori, 1 in 5 UK businesses also report difficulty securing new contracts that will extend into 2019.
China's Continues to Dominate Global Manufacturing and Trade
Part of China's "One Belt, One Road" policy, the funds will bolster commercial and political ties with more than 64 countries between Asia and Europe.
Keeping Goods Moving is Tougher Than it Looks, and Pricier
The number of tons shipped by ocean containers has multiplied almost 17 times over in recent years. From 102 million tons in 1980, to 1,720 million tons in 2016!
CXOs' Are Challenged to Be In The Present, But Look to the Future
Great leaders understand the importance of cost, quality, speed, and innovation can't be understated. It's the job of senior management to balance out their specific functional areas.
Many companies have realized that going digital is the only solution to break traditional supply management chains and move boldly into the future.
The full white paper provides a deeper look into the 6 global supply chain trends that should be on your radar in 2018. Download your copy to ensure your digital strategy for 2018 is pointing in a future forward direction.
This post was published on February 7, 2018 and updated on February 7, 2018.