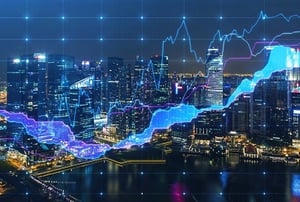 As we transition into 2016, what capabilities are companies looking for in a global trade management solution? Maintaining transparent relationships with suppliers will be key this year, as strategic sourcing increases and customers express interest in where their products come from. As before, organizations looking to expand their operations in China will need expertise navigating Process Trade and other regulations. Additionally, shippers require agility in their supply chains to avoid and even predict bottlenecks, natural disasters, and other disruptions.
The Technology Evaluation Center (TEC) recently looked into the benefits that companies have been looking for – and what they found in Amber Road's solutions. For example, Axalta Coating Systems, a global company that develops, manufactures, and sells performance and transportation coatings to more than 120,000 customers in 130 countries, recently deployed Amber Road's Export On-Demand solution—cloud global trade management (GTM) software.

The coatings company sought a cloud GTM solution deployed in a software-as-a-service (SaaS) module so it could implement it fairly quickly and at lower IT cost on a global basis. You can learn more about how Axalta addressed compliance requirements globally and minimized risk by reading our blog post from November.
Amber Road also offers broad China trade expertise, helping customers take advantage of China's maze of trade regimes, particularly with the advent of China's new FTZs, increased regulations, and its upcoming "five-year plan" (2016-2020). Siemens, a global electrification, automation, and digitalization technology provider and one of the largest foreign-invested companies in China, recently selected Amber Road's China Trade Management solution to centralize and automate its Customs and China Inspection and Quarantine (CIQ) procedures for all of its China-related import and export activities. The powerhouse company wanted a solution to help it increase transparency in its trade, reduce costs, and speed up the flow of imports and exports. Learn more about Siemens' project in our blog post here.
TEC also investigated Amber Road's many differentiators, including the depth and breadth of trade compliance content; recent acquisitions that have added more functionality to the solution; and its enterprise technology framework. Learn more about TEC's evaluation of Amber Road's solutions for 2016 in their article here.
This post was published on January 8, 2016 and updated on January 8, 2016.