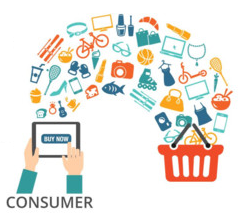 Global business-to-consumer e-commerce is growing in leaps and bounds, not only in emerging markets where consumers can find it hard to access coveted and trending products locally, but also as a replacement to brick-and mortar shopping. However, global sales opportunities also present a challenge: to deliver a positive customer experience while combating high shipping fees, hidden costs, inaccurate duties, import and export regulations, and product restrictions.
At FDRA's Footwear Traffic and Distribution Conference in Huntington Beach, CA, next week, don't miss two great presentations by Gary Barraco, Director of Global Product Marketing at Amber Road.
First, learn how to leverage technology and trade knowledge in "Driving Global eCommerce Footwear Trade." Gary will discuss how to improve product classification accuracy and address all cross border trade regulations that can position your company to improve its e-commerce operations.
Then, follow the Amber Brick Road in "Developing a Supply Chain Compliance Checklist." Managing the activities comprising a supply chain is becoming more difficult with the growth of trade and increased regulation. With the dynamics of global trade – a reassessment of your trade management processes and capabilities will attest to its standing on today's standard.
During this interactive session, Gary will ask you to answer 11 questions to prove how well organized your global trade is and what this could mean for your company. Gold stars and stickers for the top grades!
FDRA's Footwear Traffic and Distribution Conference is the largest footwear conference of its kind in the US. This innovative conference draws nearly 200 of the industry's top footwear executives, traffic and distribution specialists, customs experts, and service providers. Companies that attend include Walmart, Wolverine Worldwide, NIKE, Sears Holding Co., Belk, Rack Room Shoes, JCPenney, and the list goes on.
FTDC 2016 will have a strong focus on trade issues and the inclusion of expert panels exploring supply chain and compliance challenges. Day three of FTDC will be dedicated to customs classifications, the famous live sample review and a review of customs hot topics including FDRA's tariff simplification and athletic footwear initiatives.
Can't make it to California? Check out our new ebook on the must-haves for entering the world of global ecommerce:
This post was published on October 14, 2016 and updated on October 14, 2016.