Each year, the CSCMP Annual Conference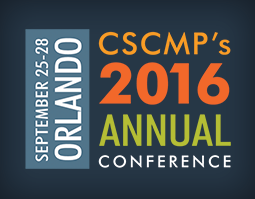 provides supply chain professionals with the latest supply chain management knowledge, research, and industry developments. Later this month, learn how government plays a role in supply chain and explore incentivized programs and opportunities available to help you reduce costs and taxes.
Suzanne Richer, Director of Amber Road's Trade Advisory Practice will be Chair of Track 4: Government and Regulations at the CSCMP Annual Conference. Suzanne's track, consisting of 6 different sessions, will highlight key government initiatives like the ACE Single Window, duty free programs, and the Food Safety Modernization Act. Suzanne will be joined by experts from across the industry, including a number of Amber Road customers.
Don't miss these informative panels:
Strategic Global Supply Chains: How Well Networked Is your Supply Chain?
September 26 – 10:30am-11:45am
Companies are digitizing their supply chains to achieve faster innovation cycles and synchronize with global demand. Learn why this level of digitization and data visibility is required to feed the ever-growing information demands of government single window programs.
Nathan Pieri, Chief Product Officer, Amber Road
Phyllis Van Gilst, Senior Manager, International Trade Compliance, Emerson Process Management, LLLP
Global Supply Chains with the Highest ROI through Government Initiatives
September 26 – 2:00pm-3:15pm

Global supply chains have many opportunities to reduce their costs of duties, fees and taxes through conditionally duty free programs. Learn how to turn your global strategy into a stronger part of the value chain by taking advantage of these opportunities.
Jean-Pierre Geronimi (Moderator), Managing Director, Global Trade Academy
David Corn, Vice President, Comstock & Theakston, Inc.
Stephanie Lipka, Senior Manager-Trade and Customs Compliance, Wrigley
Food Modernization Act, Factory Audits and Supplier Relationships
September 26 – 3:45-5:00pm

The FDA now has a legislative mandate to require comprehensive, preventive-based controls across the supply chain. The Food Modernization Act requires enhanced oversight of suppliers with greater auditing responsibilities by the US-based importer. Are you ready?
Suzanne Richer (Moderator), Director, Trade Advisory Practice, Amber Road
Pam Erb, Vice President of Supply Chain, Wegmans
Davison Schopmeyer, Managing Partner, enVista Corp.
Global Supply chain Excellence – Partnering with the Government for Expedited Supply Chain Management
September 27 – 3:45-5:00

The Single Window is here and global customs agencies have advanced technology and capabilities to target your international supply chain. Join this panel for insight on how the changing role C-TPAT, ISA, AEO, and similar programs are elevating companies to a Trusted Trader Status, giving them advance clearance time at the border.
Bill Bine, Vice President, Ascena Global Sourcing
Kari Finch, Senior Manager, Global Trade, General Mills
Arne Mielken, Senior Trade Specialist, Trade Content (Europe), Amber Road
Don't miss this opportunity to learn how incentivized programs can help you reduce costs and taxes!
This post was published on September 14, 2016 and updated on September 14, 2016.