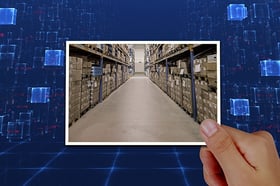 You may think your supply chain is digital, thanks to all those nifty tech tools you conduct business with like barcode scanners, robotics, and transportation management systems (TMS) - but is it really? These days, most supply chains use some sort of digital technology, and many best-in-class organizations are looking ahead to more advanced technologies. Their intention is to transform their supply chains to make them faster, smarter, more efficient, integrated, and agile.
Inbound Logistics recently interviewed Amber Road's Gary Barraco about the growth of transformative supply chain digitization, and what people really mean when talking about the benefits of a digital supply chain. Gary focuses on the four values of cost savings, agility, risk reduction, and improved visibility, with agility being the most important for Amber Road's customers. "Unless you have agility, you can't reduce costs or minimize risk … and visibility comes along with that," he says.
Yet, converting processes and communications to a common, digital platform can be daunting. Barraco notes, "No one can roll out a digital transformation across the entire supply chain at one time. It has to be done in phases."
Ready to go digital? Read the rest of the article here. You can also download our eBook below to learn how digitization enables real transformation in the supply chain!