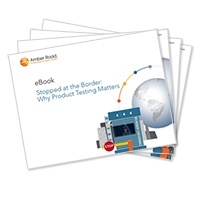 As protectionism continues to rise across the world, the chance of having your goods stopped at the border increases as well. There are volumes of legal documentation and a corps of agents enforcing regulations in each country all over the word. These rules are in place for many reasons: protecting against terrorism, consumer safety, balancing trade, and generating revenue, to name a few.
In particular, a lack of testing and certification that should occur well before the goods are shipped often leads to improper or incomplete documentation and can cause shipment delays.
Amber Road's eBook, Stopped at the Border: Why Product Testing Matters, explores how to combat border delays through rigorous product testing. Learn:
The vigilant government entities enforcing these delays, and why

How to ensure that testing occurs at every stage of the supply chain

What's behind the strongest testing and compliance programs
Discover your best bet against time-consuming and costly border delays - download the eBook today!
This post was published on August 1, 2018 and updated on August 1, 2018.