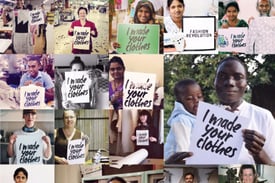 Today's consumers expect accurate and detailed product information at the point of sale to ensure that apparel, footwear, food, and other products meet their social and ethical standards. As companies recognize this growing consumer demand, many are advancing their traceability efforts to provide consistent and complete sourcing, social, and ethical product background information.
While many of us were probably introduced to worker abuse by reading Upton Sinclair's book "The Jungle," we probably thought many of these sub-standard working conditions had been eradicated since 1906, when the book was published. However, recent workers' rights scandals – such as slavery in the Asian seafood supply chain, or the collapse of the Rana Plaza building in Bangladesh – make it clear that such issues are far from extinct.
In response, many companies have greatly expanded their approach to supplier auditing, to include social compliance, sustainability, and traceability:
Social Compliance – valuing and protecting the health and safety of employees, and remaining accountable for the safe community and environmental practices in which they operate.
Sustainability - not being harmful to the environment or depleting natural resources.
Traceability – the ability to document the origin, history, location, and use of a raw material or product.
So, what's driving the recent pivot toward social compliance? For many corporations, it boils down to corporate risk management, but there's more to the story:
Consumers have access to instant, global information, and expect to have access to this detailed product origin information throughout the buying experience.
A crisis in the global supply chain can impact brand reputation and customer demand immediately. What occurs in an apparel factory in Bangladesh or a high tech contract manufacturer in Taiwan can stream over the web within minutes.
Consumers and businesses have a greater awareness of the need for sustainable sourcing and production throughout the supply chain.
Traceability plays a key role in addressing these concerns. In many cases, companies have introduced their own traceability strategies and continue to progress their efforts.
To learn more, read the full article at Just-Style.
Download our white paper, Navigating the World of Tougher Product Safety and Compliance Requirements, to learn best practices for properly navigating the product safety and compliance requirements for your supply stream.
This post was published on October 11, 2016 and updated on August 7, 2017.