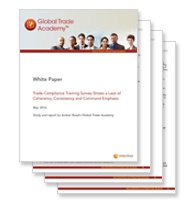 Multinational companies are not investing in trade compliance training for their employees, even as organizations and individuals that fail to comply with trade regulations face substantial penalties. Amber Road's Global Trade Academy conducted a survey to better understand the trade compliance programs and training needs of companies engaged in international commerce and trade across a wide range of industries.
Of the 322 executives from 312 U.S.-based companies surveyed, 56% of the respondents stated their organization is not investing in trade compliance training, even though 28% of all these companies have been fined or warned by government agencies for noncompliance.
And while the vast majority (73%) has a trade compliance plan, 46% of surveyed companies didn't require any training for employees and 28% require less than 11 hours of training – leaving a gap between having a plan and the ability to act on it. Furthermore, 55% had not standardized their global compliance training and 33% do not have a budget for trade compliance training, which opens the door to noncompliance risks as a result of untrained staff.
These risks can be significant. For example, violations of the Export Administration Regulations (EAR) can reach 20 years' imprisonment and $1 million per violation. Administrative monetary penalties can reach $11,000 per violation, and $120,000 per violation in cases involving items controlled for national security reasons. Conversely, the companies that are aware of the need for trade compliance training and understand its value to their organizations are reaping significant returns.
The resulting white paper takes a closer look at:
Potential risk exposures when no training is in place
The importance of trade compliance training
The benefits of actively focusing on training
Recommendations to improve your trade compliance training program

Download a complimentary copy of the full whitepaper to better understand the trade compliance programs and training needs of companies.