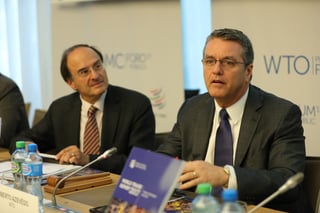 Amber Road participated in the WTO Public Forum 2017 to discuss how end-to-end global trade management software solutions can play a role in creating an open and inclusive trading system for all. Days 2 and 3 of the Public Forum continued the vital discussions around what needs to be done to develop an open and inclusive trading system; a break from protectionist rhetoric. What are the most effective ways to ensure women fully reap the benefits of trade? How can we ensure small and medium size enterprises (SMEs) adapt to the new ways of doing business, including e-commerce? Governments, the private sector including companies like Amber Road, and civil society addressed these questions at the Forum in a number of sessions.
"If the system is not inclusive, it is not serving its purpose. If people do not feel included, they start questioning the system. In this regard, national efforts are indispensable to complement what the international rules provide. Sometimes it is easier to blame the system instead of domestic regulations," said Shunko Rojas, Under-Secretary of Foreign Trade of the Argentinian government, speaking at a session organized by B20 Germany and B20 Argentina. Mr. Rojas added that, as G20 chair in 2018 and host country of the upcoming 11th WTO Ministerial Conference in Buenos Aires (10-13 December 2017), Argentina is pushing forward a comprehensive agenda that addresses the complex relation between trade, technological progress and job creation.
Another highlight of the two days was the launch of the WTO's 2017 World Trade Report on trade, technology and jobs. A group of eminent panelists discussed the effects of globalization on labor markets and its implications for business strategies, governments' macroeconomic policies, the evolution of labor markets and how societies might adjust to these changes.
"Trade and technology are two of the most powerful drivers of economic progress," said Director-General Roberto Azevedo in his opening address. He underlined that while most individuals are benefitting considerably from trade and technology, it is important to acknowledge that others can lose out. "We need to ensure that the benefits of economic progress reach everybody," he said.
The report concludes:
"Technological advances and trade opening have yielded enormous benefits for economies overall, but they can also adversely affect specific groups and regions – a problem which a number of countries are currently struggling to address. A key problem is the mismatch, or 'friction,' between the new skills demanded by an increasingly information-driven global economy and the older skill set of many workers. People need more creative and effective help in adjusting to economic change, irrespective of whether it is driven by technology or trade. The goal is to find an appropriate balance between labor market flexibility, on the one hand, and employment security, on the other. The labor adjustment challenge may be local but the ramifications can be global. Today's labor market problems are largely traceable to domestic policy shortcomings, but a failure to find answers could have global ramifications. By providing a forum where governments can meet, talk and negotiate, the WTO offers an indispensable platform – with other relevant international organizations – where governments can arrive at cooperative 'win-win' approaches to the opportunities, as well as the challenges, of ongoing global economic change."
Looking into the future, the report says, the upcoming wave of technological advances, in particular artificial intelligence and robotics, raises a number of issues, including the impact on the future of jobs.
On Day 2, we attended a key session was called "Trade Behind the Scenes: A Sporting Goods Industry Perspective." Representatives of the Brazilian Association for Sporting Goods Industry and Commerce, NIKE, and Adidas examined the benefits of the WTO's Trade Facilitation Agreement (TFA) and showcased the practical impact of the TFA via Latin American experiences in the sporting goods sector. The focus then shifted to the importance of speedy product introduction to markets and the impact of administrative custom requirements. While fast fashion and lean manufacturing are dominating the agendas, an increasing amount of technical import requirements annihilates such endeavors. Lastly, panelists explored the opportunities of policies making the Generalized System of Preferences (GSP) more inclusive by expanding the product coverage and employing more liberal rules of origin.
Like the previous days, Day 3 of the Forum was packed with sessions and events, almost too many great sessions to choose from.
Amber Road attended the session "Ending Modern Slavery in Global Supply Chains: Challenges, Strategies and the 2030 Agenda for Sustainable Development Goals (SDGs)" on Day 3. Panelists discussed how, more and more, multinational corporations (MNCs) are coming under ever-greater scrutiny in relation to human rights protection. The panel and the audience agreed that legislation like the Modern Slavery Act (MSA 2015) represent a ground-breaking step forward, but more needs to be done to meet the SDGs by 2030.
Looking to the (near) future, we were intrigued by a session around "the next generation of trade - International eTrade." The organizers called it the "replacement" of traditional trade and the product of globalization, digitization, and so on. According to them, "International eTrade" will break the time and space barriers of traditional trade. A report by the China Center for International Economic Exchanges (CCIEE) introduced the theory and policy framework behind "International eTrade," aiming to provide strategic guidance and practical recommendations for policy makers and trade practitioners, particularly SMEs, to better embrace the new trend and access to global markets.
Closing the event for Amber Road on Day 3 was a working session with the Semiconductor Industry Association on "Bridging the Digital Divide through the WTO Information Technology Agreement (ITA)." Joining with leaders from large and complex multinational companies like General Electric and the Toshiba Memory Corporation, the audience discussed how the ITA has made technology more affordable and accessible to consumers, businesses, innovators, and entrepreneurs by eliminating tariffs on hundreds of high tech goods and components, from semiconductors to smartphones. This in turn has promoted growth and prosperity through expanded e-commerce, access to the Internet, and availability and affordability of innovative technologies used in a variety of traditional sectors, from agriculture to healthcare, construction to energy. This working session further analyzed the benefits and impact that joining the ITA can have on innovation, investment, exports, job creation, economic modernization, prosperity, and standard of living.
The WTO Public Forum is a unique outreach event, which allows companies like Amber Road to thoroughly discuss trade in multiple facets, to understand where exciting future opportunities lie, and where major challenges exist. Understanding global trends and how the global supply chain is impacted by them is fundamental to better serve our clients. With this understanding, we can deliver even better value, continuously working towards reducing transportation and logistics costs, shrinking cycle and lead times, cutting duties and taxes, slashing broker fees, mitigating customs audits, streamlining quality inspections, improving fill rates, and increasing material/part utilization.
It was a fantastic event and we are looking forward to discussing the future of trade in 2018!
Learn more about key global trade trends by accessing this on-demand webinar: Global Trade – Is Your Org Ready for the Pending Changes?.