Billed as a "major milestone for the global trading system", the World Trade Organization (WTO) Trade Facilitation Agreement (TFA) entered into force on February 22, 2017. It is the first multilateral agreement concluded since the creation of the multi-country trade-focused body in 1995. The TFA negotiations concluded during the Bali Ministerial Conference in 2013, but finally went into force yesterday after two-thirds of its members ratified the agreement.
The implementation of the TFA will cut red tape, enhance the predictability of trade, and reduce the costs and delays of trading at international borders. One of the primary goals of the agreement is to create a trade environment with reduced trade administration costs.
TFA aims to reduce regulatory requirements by implementing several provisions; faster clearance and release of goods across borders such as use of prior release, and expedited shipment for certain air cargo and perishables. Another provision requires members to publish trade information on import and export procedures. Automation, electronic filing and e-payments are another provision in the Agreement.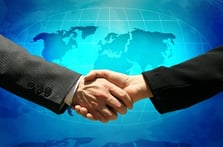 According to the Director General of the WTO, Roberto Azevêdo, the implementation of the TFA has the potential to boost annual global trade by up to 1 trillion USD. Mr. Azevêdo stated that the impact would be bigger than "the elimination of all existing tariffs around the world." Estimates indicate that the implementation of the agreement could reduce trade costs by an average of 14.5 percent.
The agreement aims to bring predictability and transparency to customs procedures amongst WTO members, making it easier for businesses to trade internationally. The WTO expects the TFA to increase the number of businesses exporting for the first time around the world.
Implementation of the agreement will cut trade costs around the world, with a special focus on assisting developing countries, which are expected to capture most of the predicted gains from implementation. It provides lower and middle income countries options to tailor the agreement according to their individual needs and their level of development. It will also provide technical and practical assistance to help implement the agreement and launch reforms.
To learn more about trade agreements, download our solution brochure, Trade Agreement Management: Capabilities for Managing FTAs. Amber Road's Trade Agreement Management solution automates the supplier solicitation, qualification and certificate management processes for importers and exporters.

References:
https://www.wto.org/english/news_e/spra_e/spra157_e.htm
http://www.bbc.com/news/business-39049074
https://www.wto.org/english/tratop_e/tradfa_e/tfa_factsheet2017_e.pdf
This post was published on February 23, 2017 and updated on February 24, 2017.