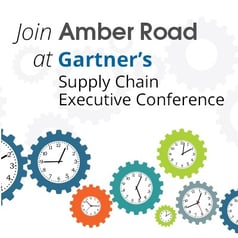 Global supply chains can no longer afford to operate in traditional ways. Fax, email and phone have become outpaced by today's rapidly changing and complex world. Technological innovations have enabled companies to replace the disconnect of traditional methods with supply chain transparency.
Surveys show that only 45% of companies have started the digital transformation, but 56% of those who have were improving profitably. That means it's time to digitize your global supply chain and the Gartner Supply Chain Executive Conference is a great place to start!
Every year we're excited to attend the Gartner Supply Chain Executive Conference, and 2018 is no different! As a proud Platinum sponsor, Amber Road will be exhibiting and speaking at this year's conference in Phoenix, Arizona from May 14-17.
Located at booth 204, Amber Road's focus is to teach supply chain executives how global trade management software can enable them to make better decisions faster, reduce errors and risk, and achieve significant benefits. Step 1: leave the old ways of doing business in the past and commit to digitization.
During the first full day of the conference, Amber Road's Ty Bordner, Senior Vice President of Marketing and Business Development, will host a lunch round-table. The session, The Time is Now: The Global Supply Chain Control Tower, will take place at 12:30 to 1:30PM on Tuesday, May 15 in Grand Sonoran J. The session abstract is as follows:
The last major business area that has not been digitized is the global supply chain. Perhaps the reason is the level of complexity, where information needs to span departments like sourcing, logistics, and trade. Or maybe it's the need to share information with many different external parties, spread across time zones, that speak different languages. Or maybe it's just how it's always been done – that is, largely on paper.

Learn how digitizing the global supply chain leads to the creation of a control tower. One that provides more than read-only shipment visibility, but rather broad visibility to all the relevant information for cross-border trade. This control tower provides an actionable platform that enables better collaboration, automation, and analytics; leading to improved efficiency, lowered risk, and greater agility. New technologies like blockchain, IoT, and artificial intelligence promise great benefits, but they all require digital data before they can be leveraged. The clock is ticking, don't be left behind, now is the time to act.
In a recent interview with Inbound Logistics, Bordner tapped into the three main ways to create value through digitization: collaboration, automation and analytics. We hope you will join us on Tuesday to learn more about the value that control tower capabilities can provide.
Whether you make it to the round-table or not, Amber Road will be exhibiting at booth 204 throughout the conference. Stop by to talk to our team and enter our raffle for an Apple Watch!

This post was published on May 9, 2018 and updated on May 9, 2018.