The spotlight this week is shining on a woman who has always soared to new heights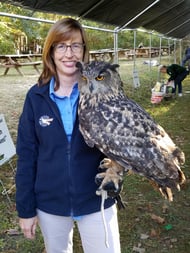 and raised the bar for those who came after her. Laura Langton, the Export Control Manager & Research Compliance Specialist at Washington University of St. Louis, has a passion for everything she puts her mind to, especially when it comes to export compliance and deemed export issues. Her specialty is adopting a bird's eye view of compliance, taking in every issue that could arise and developing contingency plans to keep the University on track while preventing any issues that may affect current or future research. This dedication is why we've decided Laura Langton is a great fit for our Compliance Professional Spotlight.
Laura was not always an Export Control Manager. She's been at Washington

University for over 13 years, starting as a research associate in 2005. She rose through the ranks to research development manager and was eventually promoted to the Export Control Manager position where she is today. On top of her great experience, Laura has been awarded three degrees from three different universities. She earned her Bachelors in Biology at Lewis and Clark College, her Masters in Biology at Portland State University, and her PhD in Population and Evolutionary Sciences at Washington University.

When she's not helping Washington University avoid compliance issues that may arise, Laura volunteers for the World Bird Sanctuary where she works with birds of prey including falcons, hawks, owls, and bald eagles, which can have a wing span of 7 feet.
It is Laura's hawk-like vision as a compliance champion that drove her to improve the compliance program at Washington University of St. Louis. We are proud to announce her as our next Captain of Compliance and look forward to seeing what she does next as she continues to spread her wings.
This post was published on November 1, 2018 and updated on November 1, 2018.