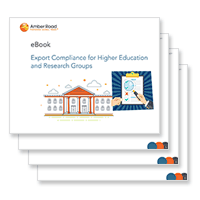 Companies conducting global trade are well aware of the need to properly address import and export regulations. But often less-known is the requirement for universities and research institutions to also comply with these often complex and thorny rules. And there are so many touch points that leave higher education organizations exposed to potential violations; often the staff and educators don't realize they are violating trade laws that could lead to heavy fines or imprisonment. That's where Amber Road comes in!
Amber Road's eBook, Export Compliance for Higher Education and Research Groups, details where higher ed compliance teams must be keyed into when considering compliance pitfalls and how our solution can help. The Amber Road Export On-Demand University & Research Edition is uniquely designed to improve operational efficiency, enhance regulatory compliance, and reduce export risks. Our solution incorporates 8 functional areas in order to thoroughly ensure export compliance:
Student and staff screening
Research and projects
International travel
Exports and deemed exports
Purchasing and procurement
Licensing
Your time is valuable, so why are you still spending it on regulatory issues that could be solved with a simple solution? Download this eBook to learn how a strong export compliance program can help give you a better peace of mind!
Want to learn more? Check out our new webpage dedicated to higher education institutes for more information on how your team can avoid the various non-compliance risks you face on a daily basis!
This post was published on July 24, 2018 and updated on July 24, 2018.