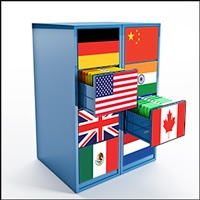 All trade compliance professionals know they must keep classifications for products in every country in which they operate - for both export and import purposes. However, maintaining a full product classification database for growing businesses can be an extremely arduous task - not to mention nearly impossible for those still operating on a manual system.
Don't miss out on your opportunity to join us for part 2 of our Export Compliance Webinar Series on Product Classification and Transactional Screening. Discover how Amber Road's Export On-Demand can make keeping your own product classification database a breeze! Exporters will then be able to screen shipments in a timely manner in order to manage and react to any unexpected changes.
Register today for our Export Compliance Webinar Series Part 2: Product Classification & Transactional Screening, which will broadcast live on March 29 at 2:00PM EDT.
Presenters include:
Steve Keighley, Solutions Consultant, Amber Road
Steve Swanson, Director, Amber Road
Find out how your company can vastly simplify the export compliance process - register now!

This post was published on March 26, 2018 and updated on March 26, 2018.