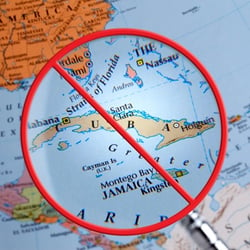 In June 2017, President Trump announced forthcoming changes to the Cuba sanctions program in his "National Security Presidential Memorandum Strengthening the Policy of the United States Toward Cuba" ("Cuba NSPM"). These changes reflected modifications to be made to the broader Cuba reform initiated by former President Obama in January 2015 - much of which is still in effect today. While a surprising announcement in itself, US citizens and residents (luckily) were not subject to the restrictions until the policy was shaped into official regulations.
On November 9, 2017, the Department of Commerce's Bureau of Industry and Security (BIS), the Department of the Treasury's Office of Foreign Asset Controls (OFAC), and the Department of State took coordinated actions to implement portions of these changes. They have jointly released the Cuba Restricted Party List including 180 restricted parties and subentities "under the control of, or acting on behalf of, the Cuban military, intelligence, or security services or personnel and with which direct financial transactions would disproportionately benefit those restricted parties/subentities at the expense of the Cuban people or private enterprise in Cuba."
Persons subject to US jurisdiction will now be barred from engaging in certain direct financial transactions with these defined restricted parties. The three license exceptions available for exports and re-exports to Cuba are as follows:
License Exceptions Gift Parcels and Humanitarian Donations (GFT)
Consumer Communications Devices (CCD)
Support for the Cuban People (SCP)
Amber Road's Restricted Party Screening solution already reflects these updates and contains the complete Cuba Restricted Party List. Thanks to our comprehensive global trade content database, Global Knowledge ®, maintained by our staff of in-house trade content professionals, Amber Road's trade content and content management process has become the best in the industry.

For more detailed information on the Cuba Restricted Party List, either visit the US Department of State, US Department of the Treasury, or the Bureau of Industry and Security.

To learn more about Amber Road's Restricted Party Screening capabilities, download this case study to discover how a global manufacturer was able to improve compliance & productivity by automating their screening process!

This post was published on November 22, 2017 and updated on May 1, 2018.